Hello! I'm back again. I'm so sorry I've not written to you in nearly a week. Shame on me! I've missed blogging to you so much. Yet I've not been anywhere near a computer for the past several days.
I've literally had a mountaintop experience, at the Glorieta Conference Center, about 20 miles east of Santa Fe, New Mexico. Click here to see a picture of this gorgeous place, high up in the Sangre de Cristo Mountain Range. This picture does not even begin to capture the beauty — in October, the aspen leaves are transformed brilliant gold, reflecting in the lake. And at night, the steeple is lit up, allowing you to see royal blue stained glass windows. The beauty overwhelmed me nearly every second!
But what I enjoyed most was the people. I attended a writer's conference, so every person there has a passion for books. And you know I do! Here's a picture of a gathering of friends in my online writer's group: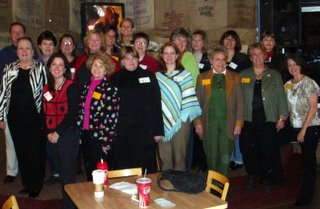 One day at lunch, a woman at my table said, "I don't know about you, but I've got half a dozen books on my nightstand! I just can't finish one before I can't wait to start another. They're all so good!" Wow — I could relate! We all went around the table and described what we're reading. What fun!
I was able to meet so many people who've only been email addresses and words to me. The first day I arrived, I stood in line to get my welcome packet. A woman named Linda Jewell was handling this job, and I asked her, "Are you the Linda Jewell who writes short stories?"
"Yes!" she answered. "Are you the Heather Ivester who read my stories?" Indeed! She'd sent out a request for readers to critique her stories, and since she'd written about relationships between mothers and daughters, I enjoyed them immensely.
"Now I know you're a real person!" I said to her. "I've always been real," she said back to me. Then she stopped what she was doing and came around the counter to give me a big bear hug. That set the tone for the entire conference. Real people!
How about you? Have you been able to go on a retreat lately? I used to go all the time in college and when I was a single — and those mountaintop experiences sustained me through the valleys. I've been so busy as a wife and mom that it's hard for me to let go and get away. But it's important. I urge you to try to do the same, whether you're alone or part of a conference of people.
I really feel like God whispered something to me there. I'll tell you about it tomorrow.
Now, today is Halloween — and I'm heading out to yet another preschool costume parade. These are the happy times. I love watching parents snap pictures and smile behind video cameras as their tiny tots parade around the room in costume. I know behind the scenes there are sticky floors, lost socks, and scribbled-on walls. Yet it's such fun to forget about all that and join together to celebrate memories in the making.
I wish you all a safe and happy Halloween (with lots of treat bags full of chocolate)!!
[Edit: Louise DuMont has a nice write-up of this conference on her website, with pictures.]