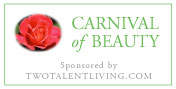 It's time for the Carnival again, and I've been going over a million ideas in my mind for "The Beauty of Gentleness." Iris is hosting this week, and she already has an awesome post up. What can I say that's different?
I keep going back to my one of my favorite Old Testament heroes — Elijah. I love Elijah! I can relate to his emotions so well. He had a hard time with the things I struggle with. When his body was run down physically, his spirit got weighed down with heaviness too — and he just wanted to give up.
Yet God met his every need and spoke to him in a gentle whisper.
Oh, how I love that whole story. You can read it in 1 Kings 17-19. The heartless queen Jezebel reminds me of the evil queens and stepmoms who show up in fairy tales I read with my kids. She and her rotten husband Ahab were out to get Elijah. Do you remember the big showdown on Mount Carmel? The phony god Baal versus the one true God.
After a whole day of watching hundreds of Baal priests beg their false god for fire (to no avail), it was Elijah's turn to show everyone the truth. He built an altar and surrounded it with water — and when he prayed, our real God sent fire from heaven and completely burned up everything! It was a MIRACLE.
The very power that sent fire from heaven is the God who is available to YOU. He still works miracles today — no matter what you're going through. If you're a mom, you know what miracle took place when God formed your baby within you. All you did was crave pickles and ice cream! (or Arby's roast beef sandwiches, in my case). And according to Psalm 139, He knit the baby in your womb.
Yet in this story, Elijah got scared of Ahab and Jezebel — and he ran away as far as he could! He was so tormented by his fears, he didn't eat or drink anything until he was completely famished. Then he stopped running, worn out, and wanted to die. An angel brought him food and water. Later the story continues in 1 Kings 19:11-14:
Then the Lord said, "Go out and stand on the mountain in the presence of the Lord, for the Lord is about to pass by." Then a great and powerful wind tore the mountains apart and shattered the rocks before the Lord … [But the Lord wasn't in the wind, earthquake or fire.] … And after the fire came a gentle whisper.
This is how God spoke to Elijah — in a whisper. And that's the way He speaks to you and me. Yet we get so busy, the noise of our hectic lives blocks out the gentle sound of God's voice. But He's there, always waiting for us.
When we meet Him through reading the Bible, He speaks to us loudly — in a roar sometimes, like Aslan's. But throughout the day, I can hear Him whisper, as my conscience reminds me to do what's right. Don't look at that. Tell him you're sorry. Stay on track. Give her a call. Go beyond yourself.
That's the gentle voice I seek — and I'll spend the rest of my life trying to listen and discern what He's saying to me. But isn't that what our faith is? It's an adventure in getting to know God, to trust His voice. The Christian walk is a continual journey, one not unlike Elijah's. We're always moving toward finding that place in our hearts where God's whisper can best be heard.