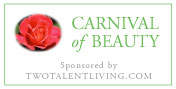 My table is empty … and I'm ready for a feast! A buffet of beautiful food writing. Recipes. Delicious ideas.
If you've never entered the Carnival before, this is your week! It's sponsored by Sallie of Two Talent Living, but I'm the hostess for this week's topic of Comfort Food.
Don't be bashful. Remember the post I wrote about food writing? You can do this. I especially want your recipes if you don't live in the U.S. Let's make this an international potluck!
If you have a blog, post your recipe today or tomorrow, then send me the link in an email by 3 pm on Valentine's Day, including a brief one- or two-sentence description. If you don't have a blog, just email me your recipe, and I'll post it with mine.
heatherivester at bellsouth dot net.
Let's have a feast of great food and great writing!