I went to a writers' conference last weekend sponsored by American Christian Writers. It was more like a retreat for me — being surrounded by other people who love books, words, and growing in our faith always puts me in good company.
This was my third ACW conference — and it was a great one. I really enjoyed getting to meet one of my blog readers! When I found out she lived not too far from me, I invited her to come. And she did!
I counted up, and this was the seventh writers' conference I've attended in the past two years, plus I also went to CBA Advance in Nasvhille, which is where all the Christian publishers display their lines of books for retailers.
I've been to two large conferences sponsored by Lifeway, one sponsored by SCBWI (Society of Children's Book Writers and Illustrators), three American Christian Writers, and another local writer's group that had a one-day conference that brought in a novelist I really wanted to hear speak.
So, why do I keep going to these things? Am I just not getting it? Well, except for one, they were all within driving distance from my house. Four of them were within an hour of my house, and every time I've gone, I've invited family members or friends to come with me. For example, last spring, I invited a high school friend to come with me, and I helped her get her feet back into publishing. She's writing regularly now for several magazines and a PR firm.
It's also encouraging for me to meet other people who are as wacky as I am about Christian books. Here's a picture from the Nashville CBA where I met with several people from one of my online writing groups. (I'm in the back row, second from the right.)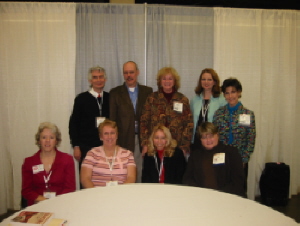 On the back row, far left, is Cecil Murphey. He's one of the most prolific writers around — do you remember me telling you about him when I reviewed 90 Minutes in Heaven? He was the writer God used to tell Don Piper's story. At the conference last weekend, I sat through over six hours of Cec's teaching! He has such a gift for mentoring writers.
I think he knows a thing or two about books — since he's published 104 of them and has about half a dozen under contract now. I've taken away so many nuggets from his teaching. And I also got to meet with him one-on-one and listen to his advice for me personally.
This is the best part about these conferences. You get to make appointments with editors, authors, and agents. What better way is there to learn about publishing than to meet the people who make the decisions behind the scenes?
The truth is — last weekend's conference was where I realized this "writing thing" is not going away. It's not something I'm going to abandon, like I've abandoned countless other hobbies that I got bored of. By writing, I don't mean scribbling away in a secret journal. I mean seeking publishers who need content and are willing to pay for it.
I've learned that to be published, you have to do more than write whatever you want and send it out in an envelope with postage and a prayer. That's the quickest way to get a rejection letter, probably from somebody's assistant (yes, I know about this first-hand!).
At every conference, I've learned something new. The main thing I've picked up is that marketing goes hand-in-hand with writing. Before you even begin your article or book, think about who you're writing for. Otherwise, you'll have a hard time finding anyone to buy it.
For example, Gina Holmes of the awesome Novel Journey blog recently interviewed mega bestselling author Allison Bottke. She has published over 20 books in the God Allows U-Turns Series and Christian Living genre, as well as her debut novel. Major success story.
How did Allison do this? In the interview, she explained how she'd wanted to write a memoir of how her life got turned around when she became a Christian at age 35. But she thought, "Who'd want to read my story?" Then she decided to tell it as part of a series of other people's stories. An agent loved it, and the rest is bestselling history.
And just in case you think these conferences might be boring, think again. Here I am at the Nashville CBA Advance doing a little clowning around. If you like to write, maybe I'll see you at a conference someday!