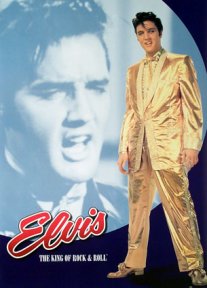 One night over the summer, our family went to swim at a nearby gym that has an Olympic-sized pool. We like going after supper because there's hardly anyone there and nobody seems to mind a 3-year-old who speaks in ALL CAPS. It's gotten to be a tradition for us all to go.
This particular night, I even had time to soak in the hot tub a while, so I was feeling particularly refreshed, maybe even a little zany. We left right before closing time, and when we walked out into the parking, we saw …
Elvis.
Yeah … a guy who looked just like Elvis! Sideburns and all.
Normally, I would have walked on by with a sideways glance, but I was feeling mighty fine, so I blurted out, "Hey, I think I'm seeing Elvis around here."
Well, whad d'ya know? It turns out this guy really IS a professional Elvis impersonator, even though he was dressed in a T-shirt and sweatpants after a workout.
"I just moved down here from Nashville, " he said to us, in his rich baritone voice, certainly meant for greater things than a fitness center parking lot. "You know, Nashville is God's country."
I told him we'd been to Nashville back in January, for the Christian Bookseller Association Expo. He nodded his head, his midnight pompadeau staying in perfect place. "People think Nashville is all about music," he said. "It's not. The #1 industry is publishing. There are more Bibles printed in Nashville than anywhere in the world. Like I said. It's God's country."
As we chatted, our kids seemed to be in awe of his voice. "I just got finished doing a commercial that's going nationwide," he told us. "It's for Planet Fitness. The Judgement-Free Zone."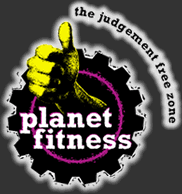 He ended up giving us one of his CDs and a nice professional photo of himself drinking a Coke. He signed it to our family using a gold paint pen.
When we got in the car, we played his CD right away. It was one of those moments you just want to freeze in time. The kids were all quiet — they'd never heard Elvis before. "Love me tender, Love me sweet, Never let me go. You have made my life complete, And I love you so. " were the first words we heard.
After that, my son wanted to skip ahead to the last one, the 15th. "This is the one he told us was his favorite. I want to hear which one."
We continued driving home, under the starry night, in our SUV. But we had to have been a little closer to heaven, hearing the voice of Elvis sing this:

O Lord my God, When I in awesome wonder,
Consider all the worlds Thy Hands have made;
I see the stars, I hear the rolling thunder,
Thy power throughout the universe displayed.

Then sings my soul, My Saviour God, to Thee,
How great Thou art, How great Thou art.
Then sings my soul, My Saviour God, to Thee,
How great Thou art, How great Thou art!
It was just one of those nights I had to come home and write it down.
[Edit]:
Thanks, Barb of Tidbits and Treasures blog, for alerting me to the fact that the anniversary of Elvis Presley's death is coming up this week, August 16, 1977. Perhaps this post may be seen as a tribute to the King of Rock & Roll — a singer who also had an awesome talent for Gospel.