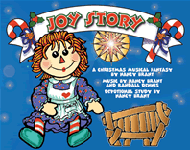 Our children's choirs at church are already practicing for their Christmas musical, which will be in early December. I'm so impressed with what they're working on, I just had to tell you about it.
If you're in a huge church, it's probably too late to start looking for material to put on a children's Christmas performance. But if you're in a smaller church or homeschool, then this musical might be the perfect solution for something you could do.
The author, Nancy Brant, has a website that shows pictures of the children performing "Joy Story" in costume. She's the director of one of the largest children's choir programs in the country, First Baptist Church of Jacksonville, Florida. Her program has a whopping 700 kids ages 4 through 5th grade, and she's been doing this for nearly 30 years. She also helped direct the children's choirs for the Billy Graham crusade in Jacksonville and Nashville, along with Diane Dawson.
Here's the information about it from the website:
"Joy Story" is a Christmas Musical Fantasy set in a wonderful place called "The Joy Store." It is the ultimate toy store where the toys are priceless and the joy is free!

As the story begins, Miss Joy is worried by news that her lease has been bought by a "mega" toy store owner, FAO Schmaltz, who can't wait to make LOTS of changes – and LOTS of money! As he arrives to begin his renovations, the "toys" step "down from their shelves and into his heart" to teach him about "the Scarlet Thread" that weaves its way through the Bible, tracing a path from God to man.

Along the way, the toys show him the real reason for Christmas. With each song, FAO and your audience will discover another piece of "the tapestry" as God's picture of Jesus is revealed.

At the end of their journey is the manger. As FAO comes face to face with Emmanuel, he discovers that "in every heart there is a longing" to know Jesus. Come along with the toys on an unforgettable musical adventure and discover that God always gives power to those who will tell His Story!
Doesn't this sound awesome? It's exciting for me as a parent to know my children will experience the Christmas story in a fresh way this year. Sure, we could sit at home and read it out loud from the book of Luke, which we'll do as a family, but this allows them to also experience it with their peers.
Which reminds me, have you read The Best Christmas Pageant Ever by Barbara Robinson? Oh, I loved that book growing up, and I read it again last year with my son who was in 4th grade. Those Herdman kids teach me something new every time I read it.
I know it's still September, but I felt a breath of the Christmas spirit blow over me today. The church sent home a CD for us to listen to the music and practice it. Hopefully, as we move closer to Christmas, this will help our kids see the real reason for celebrating the birth of Christ.
As a writer, I thank God for people like Nancy Brant, who took her creativity and passion for music and wrote something and made it professionally available for others to enjoy. If you have a love of music, writing, and children, maybe God wants YOU to write something to share with the world.
Nothing is more important than leading a future generation to KNOW God in a personal way!