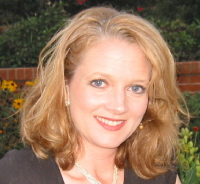 Today's my one-year blogging birthday. My Blogiversary. Yep, it's been a whole year since the first time I logged onto my new WordPress blog and sent my thoughts out into cyberspace.
Surprisingly, no reporters are banging on my door or calling me to ask me how I feel about this monumental milestone. So, excuse me for being a total geek, but I'm going to interview myself. Something I've never done before, but why not?
So, Heather, how do you feel about reaching your first blogiversary?
Surprised. I can't believe it's been a whole year since I started blogging. In some ways, I still feel like a newbie compared to everyone else out there. But blogging has become such a part of my daily routine that I can't imagine not doing it.
What was your first post about?
It was called Come On In, and I wrote this:
First of all, you don't have to be a mom to come on in and visit. What I'm interested in is hearing your views and opinions on topics that relate to families. We may not all have the same backgrounds or lifestyles, but when it comes to children, we have an incredible amount in common.

I'd love for this to be a forum where it's not just my voice you're reading. So, I'll be looking out for interesting ideas and opinions to share with you. My passion is to encourage and inspire others through helping them connect to what they need.
I feel pretty much the same way now. Except I know some of my readers, which makes writing a lot more fun!
Why did you decide to start blogging?
It all goes back to attending my first writers' conference, the 2004 Blue Ridge Mountains Christian Writers' Conference. I had a one-on-one appointment with a professional writer, and she said I should definitely have a website, but I had no idea what to put on it. I'd been a stay-home mom for 8 years, totally out of the career loop.
At the conference, I picked up a flyer about a writing contest sponsored by Zondervan, and I decided to enter. We were supposed to submit a 50,000-word nonfiction book manuscript, which I did. It was a great experience for me. I didn't make the list of finalists, but I wrote my very first blog comment in February 2005 to congratulate the winner.
I later went back to visit the Zondervan blog and noticed Stacy Harp of Mind & Media (now Active Christian Media) had also left a comment that she was looking for bloggers to help spread the word about Christian books. So I contacted Stacy, and she called me personally and invited me to join her reviewing team if I'd start a blog. It was exciting to get a phone call from a Christian writer I didn't know in California!
So, the initial reason you started blogging was to review books?
That was one idea. But I wanted to have a greater purpose for blogging than just writing book reviews. That would get pretty boring for people to read, I thought. So I decided to make my blog an offshoot of the local column I write for West Georgia Ladies Magazine. My column is called "Mom 2 Mom Connection," and I enjoy seeking ways to encourage women and help them feel connected. I've been writing this column since November 2004, also a result of attending a writers' conference.
What have you learned about the blogosphere that you didn't know a year ago?
Well, when I first started writing, I didn't open up for comments. I was afraid of spam and all the unknowns. Then I got an email from a nice lady in Boston, who said she found my blog through the Technorati parenting tag. Wow — I was so encouraged and felt like I had one real reader! Gradually, I opened up my comments, and I'm glad I did. I've made so many friends this way. There are some amazing people out there. Through blogging, I have friends all over the world — and I hope when my kids are older we can visit some of these friends!
What are some highlights from your first year of blogging?
I've really enjoyed writing essays for the Carnival of Beauty, sponsored by A Gracious Home blog (formerly Two Talent Living). This is where I've "met" many kindred spirits who have become friends.
A few months ago, I started writing the "Book Buzz" column for Christian Women Online ezine, which has introduced me to even more wonderful ladies who love to grow in their faith and write. And I have a new outlet for sharing my love of Christian books.
I was also blessed when I hosted the Mother's Love Writing Contest back in April. What a joy it was to read women's stories about their moms, and occasionally I discovered comments where the mothers who were written about thanked their daughters publicly. Much healing comes from writing about the good memories and letting go of the bad. There comes a point where we need to forgive and move on, and I think the essay contest allowed some women to do that.
Other highlights include interviewing so many amazing writers, whose books offer the types of resources women need. My list of people I want to interview is so long now!
Do you have any concerns about blogging?
Yes, I do have concerns about my privacy, and especially of my family's privacy. I just don't know who is reading this blog, though I try to visit the sites of people who leave comments. Still, I can't assume that every reader is someone I'd want to hang out with in real life, so for now, I've decided not to post pictures of my home or children. I may change my mind someday, but since I don't blog anonymously, this is what I've decided for now. I can't stand the nasty spam I receive, and I've even been verbally attacked for my views on a certain book, so I just try to be wise about things.
What are your future plans for Mom 2 Mom Connection?
I'd like to make this site more user friendly. I've gotten some of the most heart-wrenching emails from women, distraught over various issues. I try to write each of them back personally, and suggest a book or a website that may have the resources they need. But I'd like to expand my blog into a website that would make it easy for people to click on the subject they're interested in. I could offer direct links to books and websites that could help them. It will be a while before I'm ready to do that.
I also will probably take some time off in the spring to work on a book proposal. I'd like to attend another Blue Ridge writers' conference or ICRS (International Christian Retail Show) next summer, and take a proposal or book manuscript with me. For a nonfiction book proposal, you have to write an outline and three chapters, as well as your marketing plan. For a fiction proposal, you need to submit the whole manuscript. I'm still trying to figure out if I want to write for women only or maybe go back to my long-ago dream of writing for children. When I figure it out, I'll need some time off from blogging to write.
Any closing words?
Right now, blogging is the easiest way for me to reach out to women beyond my small circle of friends and family. There are so many desperate people in the world. They sit down at their computer and google "depressed mom blog" or "I feel like a failure blog" or "I'm tired of being a mom blog" and they end up at my site (yes, these are actual phrases people have used recently). I don't have all the answers, but I know they're looking for hope, which can be found in the Bible.
Christian books can be a gateway for people to enter into God's Word, whether it's a fictional story in which a character learns and grows spiritually, or it's a nonfiction book written from a compassionate point of view. I want to help people find positive ways to cope with life's daily stresses and frustrations.
Wellness is a whole-package deal — physical, mental, emotional, and spiritual. I blog about things we can do to stay well physically at b5 media's Lively Women, and I blog about everything else here. Of course, I think writing is one of the best things we can do to cope and feel closer to God's heart — as King David did, when he reached for his pen instead of his sword.
Heather Ivester is a mom of five kids ten and under and the author of From a Daughter's Heart to Her Mom: 50 Reflections on Living Well. She's also contributed devotionals, essays, and articles to several magazines and books, including Guideposts magazine and the newly released A Cup of Comfort for Mothers to Be.