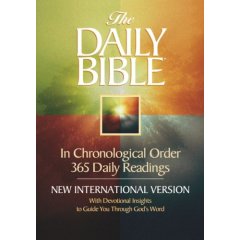 I'm so excited about my new Bible I can't wait to tell you about it. When I read
this post in The Writing Life,
it was like God was speaking right to me. I'd stopped by Terry Whalin's blog to read on my way to Amazon.com to finish up my Christmas shopping, and I read this:
Each day for at least the last ten years, I reach for one book to begin my day, the Bible. Before I read the local newspaper or anything else, the words have guided and inspired my life.

This year I'm toward the end of The Daily Bible where author LaGard Smith has organized the Bible into chronological order. I'm making my fourth or fifth trip through this Bible and appreciate his devotional insights scattered throughout this book.
Well, I bought two copies of The Daily Bible in Chronological Order, one for me and one for my husband. As soon as I opened mine on Christmas day, I couldn't wait to start reading it. I've never read the Bible like this before — it's amazing. The readings are organized so that you'll understand the chronological order of the events that take place.
This Bible is so easy to read — the type is plenty big, and there is wonderful white space between paragraphs, as well as subheadings in all-caps. (This has become important to me as I get older — little-bitty type strains my aging eyes, and it distracts me.)
Each day's reading includes a brief introduction by F. LaGard Smith — then he just steps out of the way and lets the Word speak to you directly. There are no footnotes or other commentary to distract you. While I've loved my NIV Life Application Bible, I sometimes get distracted by all the commentary — wondering if I should have gone to seminary so I could understand deeper meaning in scripture.
The Word of God is living and active, and it will speak to each of us differently. But it won't speak to us at all if we're too busy to sit down and read it. So this is what I've committed to do this year — before my eyes read ANYTHING else, I'm going to read my daily reading in this Bible.
Today, New Year's Eve, I finished up the book of Revelation. Wow. No wonder C.S. Lewis felt compelled to create a Narnia for children.
I hope you have a safe and wonderful New Year's Eve. If you have a Bible Reading Plan that you enjoy, can you share it with us here? Do you read the Bible online or in a book form?