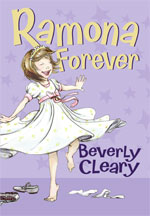 We started checking Beverly Cleary books out of the library several months ago because I was curious what made her books so classic and endearing. I read them as a child, and they're still in print today, with new artwork and covers.
I've always loved Ramona, and I felt like my middle daughter would really enjoy these books. So I bought her two boxed sets for Christmas, each containing four Ramona books. She's flown through reading them — except I read the girls Ramona and Her Mother as a bedtime story. It was wonderful, especially since it explores the relationship of a mother and daughter, a topic I'm especially interested in.
A couple of nights ago, we finished reading Ramona Forever. Out of all the writing courses I have taken, nothing has taught me more about storytelling than reading this book. When you study writing, your teachers will tell you over and over, "Show, don't tell." It gets to be a mantra, and some writers do it well, and others don't.
Beverly Cleary does it so well, my girls enjoy acting out the scenes as I read. We've been having so much fun! In Ramona Forever, a wedding takes place. The Quimby girls' Aunt Beatrice is getting married to Hobart, and the couple will be moving to Alaska. The wedding must take place very quickly before Hobart's new job begins.
At first, they decide they will only have a quick courthouse wedding ceremony, but then the Quimbys decide maybe they can throw together a simple wedding in two weeks. Can it be done? Ramona and Beezus will be the flower girls.
Now here is what is so adorable, and why Beverly Cleary is such a master storyteller. How does she let readers know how quickly the wedding was planned?
Uncle Hobart does all the wedding planning in one day at the mall (for those of you who've had extravagant weddings, can you laugh at this one? I did). He goes to one shop and lets the girls pick out flower girl dresses. Then it's time to pick out flowers. First, they take a break and go get some ice cream.
They arrive at the florist shop while licking their ice cream cones, and the florist says they can't come in the shop until they finish. So what does Uncle Hobart do? He stands OUTSIDE the shop, holding his ice cream cone, and picks out the bridal bouquet, the flower girl nosegays, and the groomsmen boutonnières. OUTSIDE THE SHOP! He just points and tells the florist what he wants.
Later, we learn that … oops … he forgot to order flowers for the church. No problem. They just call around the neighborhood, and the ladies gladly supply flowers from their gardens. The final wedding preparations are hilarious, as everything is last minute, yet it all comes together.
Another scene my girls have enjoyed acting out is what happens during the wedding. The groom's mother has sewn the wedding ring too tightly to the ringbearer's pillow. (Howie is the ringbearer, miserable in his Little Lord Fauntleroy knickers and knee socks.) When Hobart, the groom, tries to remove the ring, it's stuck! He yanks and yanks — and finally the ring pops loose and flies out of his hands! The wedding guests are shocked! And the ring is missing.
Then Ramona notices the ring has landed underneath the heel of the bride's shoe. She sees it there, gold and shimmery, in the lights of the church. What should she do? She has been told to be still and not move! And she's also afraid that if she moves, people will notice she's not wearing shoes — her shoes were too small, and so she had to take them off before the ceremony so she could walk down the aisle.
Here is a decision to make! My girls loved this, as I read it. I asked them, "What would you do?" They've been flower girls in two weddings, and know how nerve-wracking it can be to be in front of people in a wedding.
At last, Ramona bravely crawls over to the bride's shoe and picks up the ring. She's the hero! We were so proud! Over and over again, my daughters wanted to act out this wedding scene, using the footpost of their bed as the bride's shoe. (My turn! My turn! It's my turn to be Ramona, OK?)
The book doesn't end there — oh no. The story continues with Mrs. Quimby having a baby, who we find out will be a daughter. How will Ramona accept the fact that she's no longer the baby? She'll be the middle child. Reading this book, chapter by chapter, has brought out so many great discussions. I wouldn't trade these memories for the world.
Each chapter of Cleary's books has a clear story arc — a beginning, conflict, and resolution. Each chapter can be read as a stand-alone bedtime story. Yet unlike a short story, this children's novel gave us something to look forward to every night at bedtime. We couldn't wait to see what would happen next! Now we're moving onto the last book of the series, Ramona's World.
As an aspiring writer, these are the kinds of stories I want to create. Characters and plots that are timeless, that draw parents and children together as they read.
Last year, Beverly Cleary celebrated her 90th birthday. In this San Francisco Chronicle article, we can see why she has such timeless appeal:
"I love Ramona because she acts like a child and not like the perfect girls you see in some of the books you read these days," says Felicity Connor, 12, of San Jose, who devoured the Ramona books five years ago. Felicity still remembers when Ramona put toothpaste on the bathroom mirror. "Haven't I done something like that?" she asked her mother, who stood nearby at the Barnes & Nobles bookstore at Westgate Mall in San Jose.

It's this kind of appeal across generations and nationalities that has kids and adults coming back to Cleary's books. Lalicki says Cleary gets about 100 letters a month from children, parents, grandparents and teachers.

As for her competition, Cleary says she doesn't read it. She's thumbed through a Harry Potter book, but didn't finish it. "I immediately noticed that the pacing of the books is very fast and something was happening every minute," she says. "This gets kids reading faster, so they can get to the end quicker."

But Cleary, who wrote all of her books in long hand and hardly ever uses the Internet, says too much too soon for children could have its consequences.

"Kids should be free to learn at their own pace and not in a rush to become adults."
In case you missed it, here's that last line again:
KIDS SHOULD BE FREE TO LEARN AT THEIR OWN PACE AND NOT IN A RUSH TO BECOME ADULTS.
Amen.
I love Beverly Cleary.
Whenever I think about giving up blogging (which, lately, has been about once a day), I come across a person like this. And I thank God for this little spot I have where I can sit down for 15 minutes and share my thoughts with you. The hundreds of you who are reading this, and the two or three of you who comment. Thank you for reading here! I know that I can't give this up … not yet.