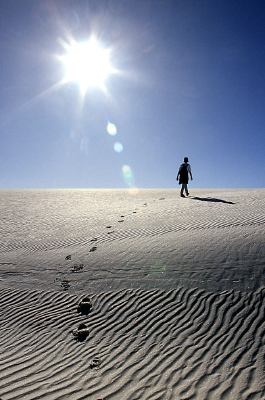 For those of you reading your Bible chronologically this year like me, are we in about the same spot? This morning, the Israelites crossed the Red Sea in my reading. Amazing.
It's funny what jumps out at you each time you read the Bible through. Now that I'm a parent, I'm viewing this experience from a parent's point of view. I remember the first time I read the Bible through was in the fifth grade, in a competition with my school friend, Marti. (If you can do it, then I can too. And you have to PROMISE not to skip even a single word. OK?)
Here's what I read this morning:
"CLOUD SEPARATES FORCES. Then the angel of God, who had been traveling in front of Israel's army, withdrew and went behind them. The pillar of cloud also moved from in front and stood behind them, coming between the armies of Egypt and Israel. Throughout the night the cloud brought darkness to the one side and light to the other side; so neither went near the other all night long" (Exodus 14:19, 20 NIV).
OK, now take this from a Hebrew parent's point of view. Can you even IMAGINE the millions of questions these poor Hebrew mamas and daddies were having to answer?
Mama, where are we going?
What's that cloud thing?
What's that fire thing?
Who is God?
Why is God a fire?
Why does God look like a cloud?
I'm hungry. When are we going to eat?
Is Daddy going to work today to make bricks?
Do I have to go help get straw today?
Why are we camping?
Can I go play?
Why is the cloud behind us now?
Are we there yet?
Are we going home?
I'm cold. I'm hot. I'm scared.
I need to go potty. Where can I go?
I forgot something back home. Can I go get it?
Why are the Egyptians chasing us?
Are they going to make us go home?
Are they going to hurt us?
I'm SCARED!
Who is God again?
Who is Moses?
Why are we following Moses?
Can you tell me the story about the frogs again?
And the gnats? Ooohh….and the water turning to blood?
Remember that hail? That was scary, wasn't it?
Why did we have to leave so fast?
So you get the picture. I'm sure glad it's not ME having to answer all those questions. Although I get plenty from my own little crew. Reading about the plagues in Exodus this year also brought out something new for me. I realized for the first time that the plagues weren't just to convince Pharaoh to let the Israelites go — the plagues also built the faith of Moses, who was transformed into a leader.
That's what my job is today as a mom — to build the faith of my children. No gnats or frogs required, thank you.