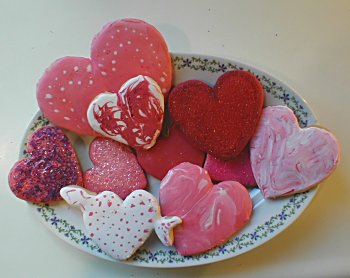 Every week I receive a wonderful parenting tip from Trish Berg. She's the author of a soon-to-be released book called The Great American Supper Swap. If you'd like to receive a free weekly parenting tip, check out her website to see where you can sign up!
Top 3 Valentine's Day Tips for Kids
1. Homemade Cards — Instead of spending a fortune on store bought Valentine's Day cards for your kids to hand out in school, go to the Family Fun Magazine website for simple hand made card ideas, including printable designs your kids can color. All it costs you is the white paper and some crayons – and you'll gain time spent with your kids, and more giggles than you can imagine!
2. Pink Heart Shaped Pancakes — Use Bisquick or your favorite pancake recipe, and add 3 drops of red food coloring to make the batter pink. To make heart shaped pancakes, you can either: 1) Cook regular round ones on the griddle then cut them into a heart before serving them, or 2) pour the batter into a squeeze bottle (such as a clean chocolate syrup container) and shape the hearts one lobe at a time. (They're really just a V shape, which spreads out into a heart on the griddle.)
3. Hidden Love Notes — Write 3 love notes to each of your children on cute heart shaped paper. One each write something like, "I love you because
you care for others and always lend a hand." Hide the loves notes through out your house. After dinner, let your kids hunt around for their love notes. When all are found, sit at the dinner table and have each child read his notes aloud to the whole family! Then share a sweet treat for dessert and watch them all smile!
Top 3 Valentine's Day Tips for Moms and Dads
1. Dinner on a Dime — Eating out at a nice restaurant is so expensive for moms and dads, factor in paying a babysitter and you could go broke! So, instead, try this neat tip. Feed your kids a simple meal (like pizza) early that evening, around 5, and then put them to bed at 7 or 8. Make your husband's favorite meal for two, and after the kids are in bed, have a late night candle lit dinner.
2. Top 10 List — Make up your own top ten list for your husband, listing the top 10 reasons you love him. After the kids are in bed, share your list and watch him melt.
3. Love Notes — Write several love notes to your husband. Spray each with a dab of your favorite perfume. Then leave them in places you know he will be on Valentine's Day like on the seat of his car or on his desk at work. You can even enlist the help of some of his co-workers to deliver some to him for you! When he comes home, I guarantee he'll be smiling!
Send your great ideas and tips to help moms simplify motherhood to Trish at trish@trishberg.com, and maybe they'll be in Trish's next Tip of the Week!
Be sure to check out all the FREE stuff, tips, recipes and more at Trish Berg's website, where every mom goes to simplify motherhood!