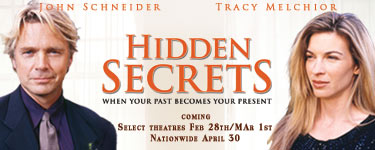 A few weeks ago, Active Christian Media sent me a pre-release of a new film to review, Hidden Secrets, produced by Pureflix Entertainment. It will premiere nationwide in over 200 theaters on April 30th, then release on DVD in late August.
When I received my screener DVD, I had no idea I'd be able to have it signed by the star of this movie, John Schneider. Yet that's exactly what happened last night!
I grew up in the 80s watching "The Dukes of Hazzard" on TV, seeing John Schneider play the role of Bo Duke and shouting "Yeee-HA!" along with my siblings when the red General Lee flew high over a ditch. A good many of my classmates carried Dukes of Hazzard lunchboxes to school.
Since his Dukes' days, Schneider has starred in several more films and popular TV series, including a recurring role on "Dr. Quinn, Medicine Woman" and the role of Jonathan Kent on 100 episodes of the hit show, "Smallville."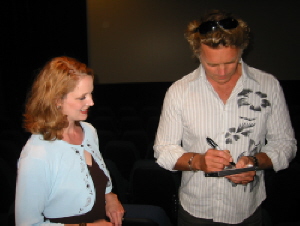 For the past few months, Schneider has been touring the South promoting his latest film, Collier & Co., which we saw in a special premiere last night in our small Georgia town.
He wrote, directed, and starred in this good-ol-boy comedy-action film (which was a lot of fun to watch!).
The most exciting news about John Schneider is that he's a born-again Christian and the married father of three. Before the movie began last night, he explained to our packed theater of all ages, "I want to help make movies that you grandparents can watch while sitting next to your grandchildren." He said nothing makes him happier than seeing families enjoy a film together.
It's not often that a movie star who lives in Hollywood makes a guest appearance in our town, so it was fun to be invited to attend as a media guest. I brought my "Hidden Secrets" DVD for John to sign, and he asked me what I thought of it. I told him it had a positive, uplifting message, and that I hoped Pureflix would keep making more movies like it. (My mouth said those words, while my brain was screaming, "You're standing next to John Schneider! Movie star!")
Hidden Secrets deals with some weighty issues that may not be suitable for children under 12. The plot of the movie is this: in the first scene, a man writes a suicide note and then shoots himself (it doesn't show the violence). Then we see a woman grieving and learn this is his sister, Sherry, who is played by stunning "Bold and Beautful" actress, Tracy Melchior.
Nine friends come back to their hometown to attend the funeral of Chris Hayden, who was apparently a strong Christian influence in their lives. They end up staying at his sister Sherry's home, which has been turned into a bed-and-breakfast.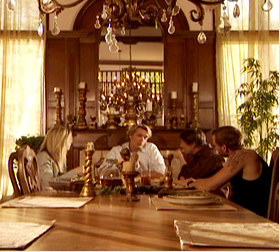 Most of the action takes place in or around this gorgeous home, except for a couple of poignant scenes in a church and at a bar/restaurant where the Christian band, Building 429, plays live.
The soundtrack also includes songs by Rachel Lampa who makes her acting debut playing the role of Sally.
There's an interesting love triangle that heightens the tension: ten years ago, Sherry broke the heart of Jeremy, played by David A.R. White (who also co-wrote the script and produced the movie). Now Jeremy is one of the house guests (along with his new flame, Rachel, played by Stacy Keanan).
Each character represents a different stereotype, and having them all together in a "Big Chill" fashion brings their past secrets to the forefront where they discuss things in the light of their faith. There were a few lines of dialogue and two characters I found a little unbelievable, but despite the quirks, the inspirational message is clear.
The DVD version includes candid interviews with the actors and those involved in directing and producing the film. I really enjoyed learning more behind the scenes.
In a recent interview with the Christian Examiner, David A.R. White said, "Christ forgives and there are second chances. There is hope at the end of the tunnel and God is waiting there. He's just waiting on us." In a nutshell, this is the main message viewers take away from watching Hidden Secrets.

The first time I heard about Pureflix Entertainment was in Christian Women Online's interview with Candace Cameron Bure. She starred in another Pureflix film called The Wager, along with actor/singer, Randy Travis.
Today's parents are trying to raise children in a lost world, with school shootings, suicide bombers, and people trapped in addictions. I want to support the efforts of Pureflix and others who are more interested in producing films with a positive message than in grossing millions of dollars at the expense of our children's innocence.
Getting to meet John Schneider last night was fun, making me one happy mom blogger today.