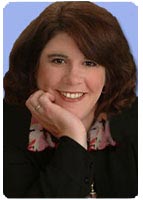 Author and speaker Trish Berg is here today to show us how to simplify our mealtime routines. She has a passion for encouraging families to get back to the dinner table, which she shares about in her new book, The Great American Supper Swap.
Trish is a mom of four who lives on a 200-acre beef cattle farm in the heart of Ohio, just north of Amish country. She's an avid reader, scrapbooker (when she finds time!), and has been a MOPS mom for over a decade.
Her syndicated weekly column runs in The Daily Record Ohio newspaper and Christian-mommies.com, as well as several regional parenting magazines. And she also teaches part-time at a community college! Trish is one busy mom, and I'm so glad she's made time to stop in for a visit.
Trish, welcome to Mom 2 Mom Connection! Can you tell us how you got started supper swapping?
Almost five years ago, I was struggling with my daily to-do list, like most moms, and running myself ragged in the process of trying to get dinner on the table.
One of my girlfriends, Carla, had heard of supper swapping, and asked me if I wanted to give it a try. I figured I had nothing to lose except that "4:30 and nothing's in the oven" panic.
I knew dinner was important to my kids; I just didn't know how to make it happen. So I gave it a try with three girlfriends and was amazed at how it blessed my life.
I didn't set out to write a book. I simply want to simplify my family supper. But when I discovered the simplicity and adaptability of supper swapping, I knew I needed to share this with other moms who could be blessed by it like I was.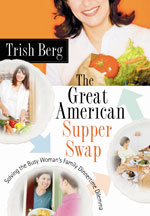 Why do you think this idea of swapping meals is helpful for busy moms?
Today's research shows that only 50% of American families eat dinner together regularly. That is an amazing loss of family time, time to communicate and connect with each other.
Even when families are eating together, 34% of those meals are fast food or take-out. That is so unhealthy, with added fat, sodium, and cholesterol; not to mention how expensive it is.
Let's face facts — moms everywhere need help to re-claim dinner. I think most moms would easily agree that the family supper is important; they just don't know how to make it happen.
When a mom begins to swap suppers, how is her life impacted?
Supper swapping is ideal for busy moms not only because it simplifies dinner, but it also reduces stress and adds deeper friendships to their lives at the same time.
Supper swapping:
* Cuts cooking time 80%
* Saves families up to $4,000 a year
* Reduces a mom's stress
* Helps families to eat healthier
* Creates a greater sense of community
* Adds deeper friendships to your life
If we wanted to start our own supper swapping group, what steps would we need to take?
I always tell moms to start simple. Ask one girlfriend or neighbor to begin swapping supper two days a week. See how it goes. You can always add another mom to your group down the road.
In other words, don't stress about getting four friends to swap with to cover the whole workweek. Don't put off trying it because you can't get that many. Just start with who you have and see where God leads you.
Here's how you can get started:
* Get Organized — Ask a few close neighbors or friends to form a supper swapping group. Use a 3 month trial period to see how it goes.
* Plan Meal Calendars — Plan meals for three months and mark who is bringing what meal on what days and times. (You can print free calendars at my website.)
* Be Honest — Be honest and up front about food likes, dislikes, and even possible food allergies to avoid problems down the road.
* Have a Back-up Plan — Try to have a back-up plan for meal delivery if you can't be home to receive the meal when it is delivered.
* Use Recipes That Work — Choose recipes to start with that are your family favorites.
* Cash in at the Check-Out — Buy in bulk and plan your grocery trips to save money.
* Pan-Damonium — Either buy identical 9×13 glass baking pans with blue snap on lids or use disposable pans to swap meals in to save chaos.
* Enjoy the Ride — Relax and enjoy the ride. Remember to cherish the friendship above the swapping group when someone chooses to leave.
What do we have in store for us if we pick up a copy of your book?
The Great American Supper Swap has so much packed between the pages.
Of course, I share some funny and touching stories about my own supper swapping experiences. Like the time Carla spilled a gallon of Taco Soup in her minivan, (and how to avoid that yourself!).
Or how my supper swapping girlfriends fed my family during the weeks when my newborn was in the hospital with RSV.
There are also tips in each chapter like how to get started, cash in at the check out and save up to $4,000 by supper swapping, and advice to help moms along the way.
There are also practical things like a pan formula so you know how many new pans to buy depending on how many moms are in your group. It's a lot less expensive than moms think!
But supper swapping is also about family and friendship. At the end of each chapter there is a Potluck Activity, a fun game to play with your girlfriends.
And there is also a chapter with kid-friendly, fun mealtime prayers you can say or sing at the dinner table.
And, of course, our BEST supper swapping recipes are included to help you get started.
Do you have a favorite recipe?
Oh, wow. That's a tough question. I love Teri's Autumn Soup, Carla's Mandarin Salad, and yum, Grape Delight for dessert. Sorry, that was more than one!
Thanks so much, Trish. You've given us so many great ideas! Do you have a last bit of advice for us?
Though I have been a supper swap mom myself for almost five years and LOVE supper swapping, my passion is to get families back to the dinner table. Supper swapping is just one great way to do that.
Each family needs to find what works for them, whether it's once-a-month cooking, buying meals from Dream Dinners, or simply eating Mac & Cheese. The food is secondary to the importance of gathering around the dinner table as a family.
Each and every mom out there needs to know that your family dinner is vital to your kid's success for their lifetime.
Studies have shown that children who eat dinner with their family on a regular basis are 60% less likely to smoke cigarettes, 50% less likely to use drugs, and 66% less likely to drink alcohol.
So I guess my advice would be to find a way that works for your family and get back to the dinner table however you can.
I hope and pray that The Great American Supper Swap does help families gather around their dinner tables again. That's my biggest prayer for this book.
Trish Berg offers a bounty of goodies at her website, TrishBerg.com, where you can read some of her articles, blog posts, and sign up for her free "Trish's Tip of the Week" newsletter that is packed with fun ideas and recipes for busy moms. You can also read a great article by Trish in Today's Christian Woman

P.S. If you leave a comment here by Friday at 5 pm, you'll be entered into a random drawing to win a FREE copy of The Great American Supper Swap, mailed to you by Trish!