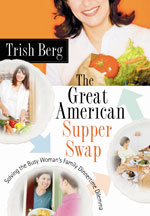 Don't forget! If you leave a comment in this post by 5 pm today, you'll be entered in a drawing to win a signed copy of Trish Berg's new book, The Great American Supper Swap, sent to you by the author.
This book is so fun! It contains details about how to start a supper swapping group, tried-and-true recipes that even kids love, and wonderful potluck activities.
Best of all, Trish shares how God can use a supper swapping group to strengthen families by helping moms simplify meals so everyone can eat at the table together.