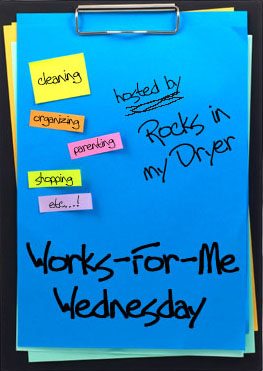 Well, I've gotten behind on all things bloggy, so I missed reading about Shannon's Works-for-Me-Wednesday Birthday Edition, which was … um … last Wednesday. But since she still has her Mr. Linky up, I'll send my tip in late.
With five children, we host a LOT of birthday parties around here. I really love entertaining kids, yet I'm not a Martha Stewart, and we don't have a big budget for these things. What I enjoy most is getting to know the mothers of my kids' friends. And a birthday party is an easy excuse to get people together.
The best kind of party for me is a laid-back affair where the kids run around and play outside and the parents sit around talking. I've discovered the easiest time to host a birthday party — for our family, at least — is on a weekday.
When my oldest children were toddlers, I usually liked a weekday party from 11 to 1. Since all of my close friends at the time were fellow SAHMs, it was pretty much like a play group, except I provided PB&J sandwiches and cake. The moms talked, the kids played. Then everybody went home and took naps. Easy.
As my kids have gotten older, we've opted for the 4 to 5:30 pm time slot, preferably on a Friday. That way, some of the moms who work can still attend if they can get off early. Moms with school-age kids can pick up their kids at school, swing by Wal-Mart and stuff something into a gift bag (don't you do that?), then come over.
The reason why I like weekday parties is that there's so much more hype and expense involved with big weekend bashes. This also leads to more stress for me — because I feel like people expect more on the weekend. Plus, I'm interrupting their Saturday afternoon plans.
Some years, I haven't felt like hosting at my house, so we've had them at parks with a playground. Most of the parks have a covered pavilion, in case of rain.
For my son who has a July birthday, we've done a few evening cookouts, when the sun has gone down a bit. I guess our favorite one so far was a pirate party, where my husband led the kids down to the creek to search for "hidden treasure." (We hid a cooler full of party favors and let them "follow the map" to find it.)
Yesterday, we worked on making invitations for my daughter's 7th birthday. She asked if she could invite her whole first grade class over, including her teacher. OK. She only has 13 in her class, so I can handle this. We were going to do a tea party, but since the boys are coming too, we'll just do a "backyard fun" party. Swingset, sandbox, frisbees, nerf footballs … maybe I'll invest in some bubbles. And that's it.
I really love birthday parties. Some parents have the budgets to go all out and invite entertainment and do the whole nine yards, but we keep things simple. I also prefer to invite the whole family; that way I get to know the siblings, and I can see who has kids the same age as mine. (Older siblings are great help for organizing games!)
There is really only a small window of time when your kids will want to do these kinds of parties. I remember growing up, that as I got older, I wanted to invite only a couple of friends and maybe go out to eat instead of having a party.
When we homeschooled, we often squeezed in a lunchtime birthday party, then the moms could go back home and finish the schoolday. Now I try to work around traditional school hours.
My kids get so excited about making the invitations and stuffing goody bags (though at times, we've just handed out bubbles or balls for party favors). This summer, we're hoping it will work out to host a rocket-themed party, and we'll let the kids make rockets and shoot them off in our backyard.
I've also learned it's best to go ahead and buy thank-you notes along with the invitations — and get them done AS SOON AS POSSIBLE after the party. I confess, some years are just crazier than others, and we haven't always gotten thank-you notes written, but we do try.
This works for us!