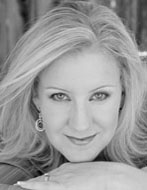 Our last guest of this blogging season is Tasra Dawson, an award-winning scrapbook artist, personal discovery coach, and author of Real Women Scrap.
I recently reviewed Tasra's book for Christian Women Online and loved it. It's one of the most INSPIRING books I've read all year. You cannot read her book without feeling rejunvenated!
Tasra Dawson is a mother of two who loves showing women how to use key elements in scrapbooking to create the lives and layouts they've always wanted. She's also the founder of Real Women Scrap TV. An avid reader, runner, and scrapbooker, Tasra lives with her husband and two children in northern California.
Hi Tasra. We're thrilled to have you share your insights with us here at Mom 2 Mom! Why do you think scrapbooking is a good activity for moms to get involved in?
Scrapbooking is so much more than pasting photos on paper and adding a few stickers to dress it up. It's more than being crafty; it's about tapping into our creativity … creativity that is often dormant and undiscovered in many women, wives, and moms.
Too often we spend our days on the mundane tasks of living, the ordinary, rather than the extraordinary. Scrapbooking opens up the door to taking the plain and making it something to talk about and remember.
In a recent blog post, I answered this question with three specific reasons. Here they are:
1. Preserving Memories: I don't know about you, but my memory isn't what it used to be. If I've scrapbooked the photos and memories, I can go back and relive the moments.
2. Creative Outlet: Having a creative outlet is a source of retreat for many busy moms. They can relax, yet feel productive and have a sense of accomplishment with the pages they complete.
3. Building Relationships: Scrapbooking allows us to reconnect with family members and show them how much we love them. After a tough day with our kids, sometimes scrapbooking is the one thing that reminds us of why we choose to go to work or stay at home. It can boost self-esteem, and they can read and look at their book and realize that things aren't so bad.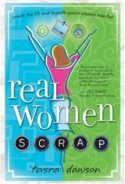 Do you have any suggestions of easy ways for moms to get back into scrapbooking if we're … um … say, a few years behind?
Of course I do. The first thing you need to do is watch the Real Women Scrap TV episode about organizing your photos. Getting those photos organized is the first step and doesn't have to be overwhelming.
The Real Women Scrap TV episode walks you through the process and recommends the best and easiest products to use to make it happen. You can view it online for free here.
Once you have your photos organized, you can breathe a sigh of relief and start with a simple project. Maybe it's a small album or an ABC book that will help you get started and back in the creative groove.
The key is to enjoy the process and the product, and not allow this to be one more area that guilt takes over and robs you of the joy that scrapbooking is meant to be.
What are the long-term benefits of preserving our family's memories through scrapboooking?
So much of motherhood involves things that are recurring: laundry, dishes, wiping noses, changing diapers. Scrapbooking and finishing a layout or scrapbook provides a sense of accomplishment because it's something we can finish and know that we are leaving a legacy for future generations.
Most women are overcommitted and overwhelmed. We'll never "find" time to do things that are important to us; we have to make choices about living intentionally and planning our lives so that we can do the things that fill us up in order to continue giving to those we love.
Do you know any mothers who scrapbook with their children? How do they help make this happen?
Keep it simple.
I think it's important for mother and child to each have their own projects and let their own creative energy go to work. One thing I find is that I have to let my daughter be who she is and that means letting the paper be a little crooked or the pages be a little too busy for my taste.
But the point of scrapbooking is that it's your personal mark or unique fingerprint on an event or person. So, my suggestion for moms is to create the space, time, and opportunity and then create together but separately.
How can we apply the techniques we learn in scrapbooking toward creating a richer, more fuller life? Can you tell us some of your personal story of what led you into writing your book?
There is an uncanny connection between scrapbooking and life, and it surprised me when I discovered it. I never would have recognized the similarity unless I had finally slowed down long enough to hear God's whispers from the scrapbook page.
The first chapter of Real Women Scrap talks about how my life had spiraled out of control and I finally ended up in the hospital with doctor's orders to rest for two weeks. It was during that two weeks that I let myself relax and get creative again.
Those moments of rest and silence taught me about boundaries, simplicity, focus, and comparison. As I looked more closely at my scrapbook pages and projects, I realized that the answers had been before me the entire time; I just hadn't seen them. Each chapter in my book is a different life lesson that we can all learn from the page.
What kinds of things do you have going on over at your blog?
This month is National Photo Month, so I'm going to continue giving tips and ideas for how to improve, organize, and embellish our photos.
I'll even be talking about the importance of keeping yourself in the picture. We've always got contests, challenges, tips, ideas, and inspiration, not to mention the weekly episodes of Real Women Scrap TV.
It's fun, practical, and full of great resources. We'd love to have you join us!
Thank you so much for stopping in here, Tasra! I'm inspired to start organizing my photos and working on some simple scrapbooks this summer. You're an encouragement to us all!
You can learn more about Tasra Dawson's scrapbooking enthusiasm at her website, Real Women Scrap, as well as her blog, Lessons from the Scrapbook Page.