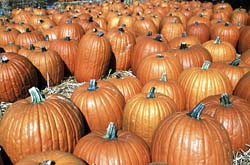 I just realized that today is my two-year Blogging Anniversary. Happy Blogiversary to me!
I was scared when I published my first post, October 2, 2005. It was titled Come on In. I thought I might blog two or three times a week, but it became a daily addiction habit.
On my first blogiversary, I interviewed myself, highlighting some of the bright spots of blogging. Man, I had a lot going on here a year ago. I was writing columns, hosting blog tours, interviewing people, and I was super active in visiting other bloggers out there.
This year, God has put it on my heart to take a step back. I don't really know how long this will last, but I've learned I need to discipline myself to only blog once a week. As I'm typing right now, my two-year-old is standing next to me, singing and asking me questions. So I type a word. Stop. Type another word. Stop. Again. Stop. I need to go put supper in the oven. I try to stay off the computer when my husband gets home from work — and I'm too tired to write anyway after we get our five kids to bed.
October is a glorious month here in Georgia, with cooler weather refreshing my spirit and inspiring me to do new things. This month, my "new thing" is learning to be diligent in saying "no" to everything that pulls my focus away from my home and family. I can justify going to my Beth Moore Bible Study and blogging weekly about this because it's like stopping in to recharge my batteries. Then I'm back out into the world.
I miss you, bloggy friends. I'm sorry I haven't been around lately to read and comment on your blogs. Another season, perhaps? Thanks for keeping up with me here. Oh, how I wish I had more time to write…