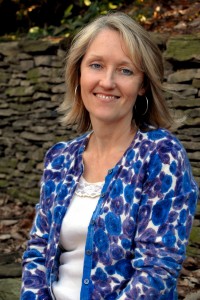 It's spring here in Georgia, and our gorgeous dogwoods and azaleas are sending me out into the yard with my clippers, snipping a frenzy of bouquets to spruce up our home. I'm not at all a gardener, but our house rests on property where generations before me still share their love of natural beauty.
If you're like me and love flowers, then I must tell you about a new young adult book I recently read by Amy Brecount White. It's called Forget-Her-Nots and shares the story of 14-year-old Laurel's blossoming realization that she has a supernatural gift of being able to communicate through flowers.
As I read this book, I felt the author to be one of those few kindred spirits I have in this world. She has a fantastic love of literature and her depth of knowledge blew me away. After reading the book, I wanted to know more about her, and I was thrilled when she agreed to answer a few of my questions.
I hope you enjoy meeting Amy Brecount White and will visit her website to learn more about what she's up to.
Welcome, Amy! How did you get the idea to write a book about the Victorian language of flowers?
It was a combination of factors. I was freelancing a lot of non-fiction articles and always on the lookout for new story ideas. I came across a beautiful coffee table book on tussie-mussies, which are symbolic Victorian bouquets. Although I tried to sell an article on this topic, I never did.
Later, I went to hear author Toni Morrison speak, and she advised aspiring writers to ā€œwrite the story that only you can write.ā€ That struck a chord with me, and I started to think about my loves and what I cared about most. Flowers, teenage girls (since Iā€™d taught at an all-girls school), literature, and relationships.
I hope you can see all my loves in Forget-Her-Nots.
Oh, yes definitely! That was great advice from Toni Morrison, and I think it's what makes your book so unique. Are you anything like your main character, Laurel?
Yes, although I donā€™t have the gift of flowers, I do have a very sensitive nose and adore flowers and gardening. I think all characters have something of their author in them too, even the mean ones. I also coach my daughterā€™s soccer team and used to play myself.
I'm not surprised to hear that you're an experienced soccer player and coach! I really enjoyed jumping right into the game with Laurel since I've been a soccer mom for several years (though never a player!) Amy, Can you tell us more about how you became so interested in tussie-mussies, which play such an integral role in the plot of your novel?
It came from the book I mentioned earlier and a lot of research into the language of flowers and Shakespeareā€™s use of flowers. There isnā€™t a definitive language, but the list in the back of my book contains the most common meanings associated with flowers throughout Western culture. I would love to explore flower mythology and meanings from Eastern cultures — especially India, China, and Japan — in a future novel.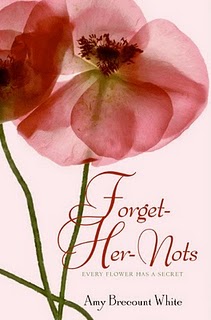 Do you ever send anyone these little bouquets of flowers?
Yes. Before the idea of Forget-Her-Nots was born, a friend and neighbor of mine had ovarian cancer, so I made her a bouquet with flower messages for her health, hope, and strength. I wished so much that it would come true, and that was one of the seeds that led me to write my novel.
Iā€™ve also created a tussie-mussie out of photos of flowers for a niece who lives too far away to send fresh ones.
That's a great idea, sending a digital bouquet to someone you love. What is your favorite flower?
I love all flowers, but I adore gardenias for their sweet scent and loveliness. Bleeding hearts, lilacs, and dogwoods are other favorites, as they are all blooming in my yard right now.
Oh, I'm sure your yard must be beautiful! As we're approaching Mother's Day next month, what flowers would you recommend for a pretty Mother's Day "tussie mussie?"
I recommend any combination of these flowers and herbs that would smell lovely, and donā€™t forget to include a card deciphering the meaning of the flowers.
Rosemary ā€" Iā€™ll remember you always.
Sage ā€" I esteem you and all you do for me.
Gardenia ā€" To ā€œtransportā€ you to a place where youā€™ll be ecstatic.
Fennel ā€" You are worthy of all praise.
White bellflowers ā€" Iā€™m so grateful for all you do.
Irises ā€" To send my message to you.
These are all so lovely, and most should be blooming or available easily around Motherā€™s Day.
You've inspired me to really give careful thought to the meaning of flowers! Back to your novel, was this story based on actual people or places?
I tried to stay true to the countryside and architecture around Charlottesville, Virginia, but thereā€™s no Avondale school there, and Iā€™ve never attended boarding school. I also used historical details about orchid hunters, Charlotte de Latour, and Mt. Kinabalu. Everything else is a product of my over-active imagination!!
Did you ever sneak around like Laurel reading really old books about the secret language of flowers?
Oh! Fun question. I wish. When I was her age, I did stay awake long after I was supposed to be, reading a good book under the covers. In fact, I still stay up too late reading, but I donā€™t have to hide it anymore. I just have to drink more coffee or green tea the next day. šŸ˜‰
Are there really people known as "Flower Speakers?"
You never knowā€¦. Truly, I think anyone who gives flowers to another person in a spirit of love and good will speak the language. You can lift another personā€™s mood for days by giving her or him flowers. (This was proven in a study at Rutgers University.)
What do you hope readers will gain from reading Forget-Her-Nots?
My Publisherā€™s Weekly review said I had ā€œa reverence for the natural world,ā€ which thrilled me. I definitely hope that all my readers young to older will look at flowers differently and see how truly amazing they are. Also, most of my stories are intergenerational and emphasize our connectedness through the generations. I hope young readers see that especially.
Do you have any advice for moms who are trying to take care of their families while also squeezing in a little time to write?
Yes. I freelanced for newspapers (The Washington Post) and magazines (FamilyFun, Washingtonian, Notre Dame Magazine) when my three kids were younger. It was very satisfying to do the research, write the piece, and see it published in a relatively short time. So much we do as moms is repetitive and never-ending. So I would advise budding writers to take on some short projects first. Try your local newspaper or parenting magazine.
Iā€™d also advise you to go easy on yourself and be happy if you write a little bit every day. Definitely always carry a notebook. Some of my best inspiration came on playgrounds!
This is very thoughtful advice, Amy! I'm sure many moms out there can relate to jotting down story ideas on the playground. How do you manage to spend time with your kids and still be a productive writer?
If Iā€™m on a tough deadline, I wake up at 5 or 5:30 and write for a while before I have to get the kids out the door. Then the rest of the day seems to go more smoothly. If you want to do both, you canā€™t ever have writersā€™ block. No time!
So Iā€™d always write notes to myself at the end of my writing time about where to start next. Iā€™d give myself a concrete problem to solve or scene to write, so I could start immediately. I often wrote in snatches, meaning an hour here and there. Some writers think they need hours, but writing during nap time or quiet time works well, if youā€™ve given yourself a specific and doable task.
Also, you have to be able to walk by the pile of smelly laundry and crumby counter and focus on writing. I throw laundry in when I need a break, but try to do most of the housework after my working hours. Now my kids are in school all day, so that helps.
Wow. You make running a home seem compatible with carving out a writing life. These are such great ideas! Are you working on another book now?
Yes, itā€™s called String Theories. Itā€™s about a 14-year-old girl who gets in over her head, the physics of relationships, a stream, and getting even. Itā€™s a little edgier than the first one, so Iā€™d recommend for ages 14 and up.
I'm sure it will be fantastic. Thanks so much for visiting us here at Mom 2 Mom Connection, Amy! We wish you the best with your writing endeavors and look forward to seeing your next book!
Thanks so much and thanks for hosting me!
You're welcome!
Note: Special thanks to Susan Salzman Raab and the other fine folks at Raab Associates in NYC for introducing me and everybody here to Amy Brecount White and her books.