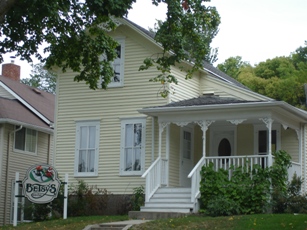 My oldest daughter started wearing her hair in braids recently, and I wasn't surprised to see she'd tucked a Betsy-Tacy novel into her backpack. I love it that she's reading this series for the second time, and in the world of Betsy, cell phones haven't been invented yet.
For anyone who is a fan of Maud Hart Lovelace's Betsy-Tacy series, you can rejoice along with me that there's a big celebration going on this week in Mankato, Minnesota. After years of publicity efforts, fundraising, and restoration, both the Betsy and Tacy houses will be dedicated as National Literary Landmarks in a ceremony Thursday, May 20th starting at 6 pm.
If I lived anywhere near Minnesota, this is where I'd love to be.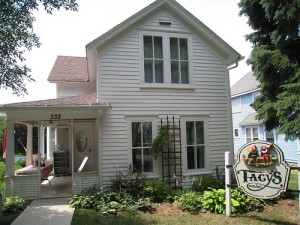 I started reading the Betsy-Tacy books only a few years ago, after I discovered a copy of Betsy and the Great World in a used book store on St. Simon's Island. I recognized the series from Gladys Hunt's wonderful book, Honey for a Child's Heart.
I'm so happy that HarperCollins Children's Books has brought all ten of Maud Hart Lovelace's Betsy-Tacy books back into print. The Harper Perennial Modern Classic editions, published in 2009, are gorgeous, with covers illustrated by the original artist, Vera Neville.
I'd love to gather a whole set of these books for my three daughters to take with them someday when they leave home. I hope HarperCollins will continue to keep these books in print for fans like me who are raising the next generation of Maud Hart Lovelace readers.
Here are the ten books of the series:
1. Betsy-Tacy
2. Betsy-Tacy and Tib
3. Betsy and Tacy Go Over the Big Hill
4. Betsy and Tacy Go Downtown
5. Heaven to Betsy
6. Betsy in Spite of Herself
7. Betsy Was a Junior
8. Betsy and Joe
9. Betsy and the Great World
10. Betsy's Wedding
There are three other companion novels set in Deep Valley (Mankato). I especially enjoyed Emily of Deep Valley. HarperCollins is due to release these new editions in October 2010. You can pre-order your copies here.
1. Winona's Pony Cart
2. Carney's House Party
3. Emily of Deep Valley
The Betsy-Tacy Society has a whole upcoming calendar of events, including a Victorian Lawn Party, Ice Cream Social Concert, Neighborhood Walk, and Victorian Christmas.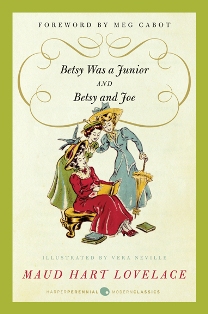 In her introduction to the new Betsy Was a Junior/ Betsy and Joe 2009 edition, author Meg Cabot writes:
How could a series of novels in which the heroine has neither red hair, a tiara, magical powers, a boyfriend who is a vampire, or a cell phone be so bewitching? Well, Betsy won my heart not just because of the humor, vivacity, and realistic emotion with which her creator, Maud Hart Lovelace, imbued her, but also because of her believable struggles to find her voice as an author…not to mention true love (both of which echoed my own struggles not just at Betsy's age but through my twenties and even beyond.)
These books do so much toward preserving a beautiful time period of American history. I'm thinking a field trip to Mankato would be a nice way to help bring literature to life!
Update: If you'd like to contact HarperCollins Children's Books to show your support for bringing the Betsy-Tacy books back in print, you may contact them with this email address: feedback2@harpercollins.com. Let's keep these books in print for the next generation!