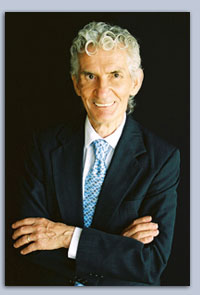 According to several writing circles, the month of June has been declared "Cecil Murphey Appreciation Month." If the teaching and writing ministries of Cecil Murphey have touched you in any way, please announce this to your friends and send him a note of thanks!
Cecil Murphey is one of the most gifted and prolific Christian writers I know. He's authored over 100 books and teaches at inspirational writing conferences around the world. Several of his books have become bestsellers, though he's often telling someone else's story. One of his specialties is ghostwriting.
Have you heard of the book, 90 Minutes in Heaven? It's the story of Don Piper, who survived an auto accident and lives to tell his incredible experiences. On the cover of the book, you'll notice it says "By Don Piper, with Cecil Murphey." Cec is the writer who helped Don Piper shape his story into the book that it is. He interviewed Don and wrote his story, which has become a New York Times bestseller.
Another of his well-known books is Gifted Hands: The Ben Carson Story. This book was recently made into a movie, starring Cuba Gooding Jr. Two more of his ghostwritten books that I enjoyed reading include Rebel With a Cause (Franklin Graham's life story) and Touchdown Alexander.
Cecil Murphey leads a fascinating life as a writer, getting to interview so many interesting people. I've been blessed to hear Cec speak several times. When I first heard him, it was at the Blue Ridge Mountains Christian Writers' Conference. I wondered who in the world he was because when he walked up to the podium, everyone stood up and started screaming and clapping, "CEC! CEC!" before a word even came out of his mouth. I thought this must be someone really important.
During that speech, Cec's first words were "I've received over 900 rejections in my life as a writer." Then he paused. "But I've published over 100 books." He encouraged all of us in attendance to not be afraid to submit our work, that rejections were part of the writing journey, even for successful authors.
I went to another conference through American Christian Writers where Cec Murphey was the keynote speaker. I attended four or five of his workshops and asked him a million questions about the writing life. He has been a great mentor to me.
God has blessed Cec Murphey's writing ministry financially, and every year he gives away thousands of dollars in scholarships for writers. Right now, you have until July 1 to apply for a scholarship to attend the Write His Answer conference in Philadephia. You can keep up with his news on his Writer to Writer blog.
All of us here in the blogosphere rise up and applaud Cecil Murphey for his gifts of teaching and writing. Thank you, Cec!