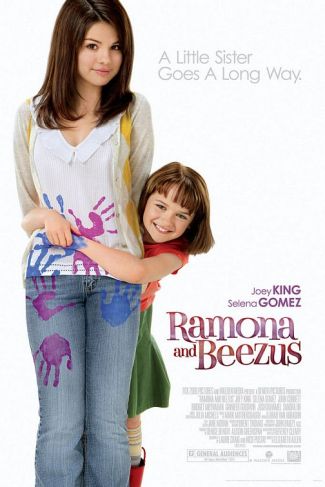 Ramona and Beezus
opened in theaters last Friday, July 23, and we couldn't wait to see it. I think we saw the previews for it months ago before the Diary of a Wimpy Kid movie. And you KNOW what a huge
Beverly Cleary fan
I am! It was co-produced by
Walden Media,
which has an amazing track record of turning books kids love into movies.
I was overjoyed to be able to invite some of my friends and their daughters to a rated G movie. I didn't have to worry about any questionable material. This film was so much fun! My girls love Selena Gomez, and the little girl who played Ramona, Joey King, was absolutely adorable.
If you've read the whole Ramona series, you'll see how the script writers cleverly wove together scenes from several of Beverly Cleary's books. The overall plot centers around the storyline from Ramona and Her Father, when Mr. Quimby loses his job. Throughout the movie, tension builds because Ramona is afraid they're going to lose their house, so she's constantly coming up with schemes to earn some money.
And of course, she gets into lots of trouble.
I thought this was a very appropriate theme for families to see together, with the shambles our American economy is still in. Many parents have been hit with job loss, like Mr. Quimby. Yet, in the movie, good things begin to happen, as Mr. Quimby spends more time with his family between job interviews, and he begins to unearth long-ago talents and desires. There's a scene where Ramona and her dad spend an afternoon drawing together on the floor that is so full of the joys of parenting.
You can read a detailed review on Focus on the Family's Plugged-in site. Ginnifer Goodwin, who plays Aunt Bea, and Josh Duhamel, who plays Hobart, create a wonderful romantic subplot. I promise you'll need to bring some tissues. I left the theater with mascara streaks all over my face.
In Beverly Cleary's interview on her 94th birthday, she does confess some reservations about Beezus and Henry sharing an on-screen crush. She says:
I wanted the film to be called Ramona Quimby or Ramona Q, because it's about a little girl, but the movie people were very concerned about their teenage audience and made Beezus older. They included Henry, which I did not want and even had them kiss. I asked to have that scene removed and at this point I don't know if they did. I expect to get letters saying, "It wasn't like that in the books." The little girl who plays Ramona is excellent. She likes my books and was eager to play the part. I'm very pleased with the cinematic Ramona.
I personally found it magical to see Ramona on the big screen. I read the books as a child, read them again to my children, and now have seen a director bring these wonderful characters to life. I remember in Beverly Cleary's memoir, My Own Two Feet, she describes how she came up with the characters, Beezus and Ramona. She created Beezus as a friend for her main hero, Henry Huggins. And then she thought she'd better give Beezus a sibling, so one day she heard a neighbor call out, "Ramona." And she thought that was a good name. This took place around 1950.
Ah … and the rest is history.
Go see the movie. Enjoy it. But then go to your library or bookstore and get copies of all the books. Read them aloud as a family — and have FUN!