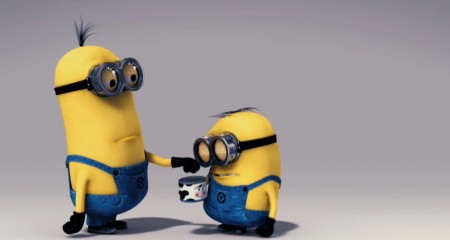 We've eaten at IHOP a couple of times this summer after dropping off one or more of our kids at camp. I think it's sort of becoming a tradition for us — a good hot plate of pancakes seems to settle my stomach from worrying my kids will survive a week out in the wild. (Plus, kids eat FREE at IHOP, so it's cheaper for us to eat there than at McDonald's.)
Well, all over the place we've seen these little yellow creatures popping up. I discovered these are called minions, and yes, someone's fabulous marketing idea worked. Our waitress told our kids the drink special was "Minionade."
"What's Minionade?" I had to ask.
"It's strawberry lemonade with candy sprinkles on top" she explained, with a wink. Irresistible to the under-10 crowd.
So we became initiated into the world of minions. I have to confess I don't watch TV very often, so if you've seen lots of commercials for these little guys, you'll wonder why it took me so long.
OK! I got bitten by the minion bug and decided to go see what all the fuss was about in the animated film, Despicable Me. It opened in theaters July 9, produced by Universal Studios and Illumination Entertainment.
I enjoyed this movie, and I really love the core message. The theme is similar to what happened when the Grinch tried to steal Christmas — except in this case, it's a bad dude named Gru who's trying to steal the moon (to prove himself to Vector, another bad guy who stole the Great Pyramid of Giza in Egypt).
But in order to steal the moon, he needs a shrink ray, and Vector nabbed it from him. He decides to adopt three adorable orphans from "Miss Hattie's Home for Girls" hoping they'll be able to use their sweetness and innocence to win him what he needs. See, he's rotten, isn't he? As bad as the Grinch.
Yet something unexpected happens, and this is what makes it such a great movie for parents. He begins to fall in love with these little girls. He takes them to ballet class, and the mothers all swoon over him, having no idea what a villain he is.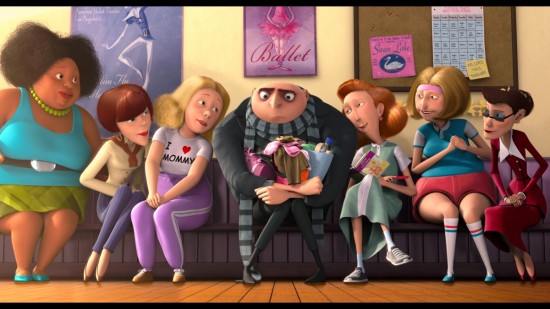 Eventually, he discovers the girls' Swan Lake ballet recital is the EXACT same day he's planning on stealing the moon, with the help of his mighty team of minions (who are just so cute). Can't every parent relate to the call of career versus the desire to spend time with family?
What's a mean ol' Gru to do?
I laughed a lot in this movie, and I also cannot BELIEVE I shed a few tears. There's a scene where the Gru writes his own bedtime story because he's tired of the trite little book the girls want to hear every night (which most of us can relate to!) It was so sweet. I also enjoyed hearing the voice of our beloved Julie Andrews, who played the Gru's mom.
So, I'm reviewing "Despicable Me" here to tell you it's a fun summer film with a good heart, and I want to let the Hollywood people know we love movies like this — reminding us the moon isn't worth capturing if it costs us our family.
Some themes are truly universal.
P.S. Don't skip out on the credits — there are all kinds of surprises!