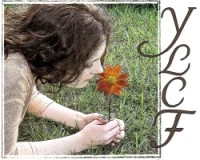 I'm pretty shy online when it comes to writing about my family. They're wonderful, and I love them, but I also love my privacy. So I scribble about my husband and children mostly in my journal.
But recently, I felt compelled to chime in at YLCF on the topic of long-distance dating. Yowza. Get me off my high horse! I have serious concerns about girls who will pour out their hearts in online relationships, thinking they know a guy just because he's good at writing the words they long to read.
It's scary. And dangerous. And yes, I've even heard of girls who've gone so far as to MARRY someone they know mostly through the internet, and then later discover the man's a creep. So, I wanted to voice my concerns that girls need to be very careful they know a guy and his family well — as IN PERSON — before they give him any encouragement.
After being married nearly sixteen years, I guess I've learned a thing or two about what kind of man makes a great husband and father. I count my blessings every day! I hope you'll come read my post, Absence Makes the Heart Grow: 15-year Perspective, where I share a little about my husband and how our long-distance relationship led to marriage.