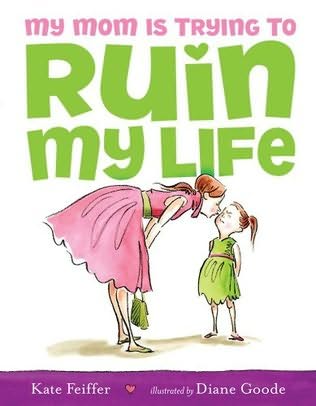 When my youngest daughter slipped this book into our library tote, I thought, "Huh? What's she trying to say to me?" Secretly, I couldn't wait to read it, and it made its happy way to the top of our reading pile.
Rarely do I review a picture book, out of the hundreds we read every year. But this one was too adorable to keep to myself, and it also struck a deep chord within me.
I wondered how author Kate Feiffer would handle this topic. I think, deep down, many of us mothers worry that maybe something we've said or done will mess up our children's lives. (Do you?)
The narrator begins her story by telling us how wonderful her mom is:
She makes people smile.
She makes people clean.
She gives hungry people food.
She takes people where they need to go, and then she brings them back home again …
After praising her mom a bit, she then poses the question, "If my mom is such a nice mom, why is she trying to ruin my life?"
She expresses five ways her mom is ruining her life, including such horrors as talking too loudly in public and preventing her from having dangerous fun. The narrator begins to hatch a top-secret escape plan that will bring her freedom. Except, in her imagination, the plan ends up with the police putting her mom in jail, which isn't so great.
In the same way Laura Numeroff's If You Give a Mouse a Cookie takes readers on a journey of one hilarious event leading to another, Feiffer's tale becomes more and more outrageous. Next, the little girl's dad must get involved to help get the mother out of jail, and she goes on to explain several ways her dad is also trying to ruin her life.
But if both her parents end up in jail for trying to ruin her life, who will take care of her? Who will feed her supper and read her bedtime stories?
It was a relief for me to read this book because it brought humor to the delicate situation of how today's parents feel the need to overprotect. And since it's told from a child's point of view, young readers will be able to relate to the character and realize … hey, other kids have to deal with this too.
I sometimes feel jealous of women who raised families 50 years ago, when the world was a much safer place. They could kiss their children goodbye in the morning and let them walk to school, along with a friendly pack of neighborhood kids. They could let their kids explore the town by bike, like Opie in The Andy Griffith Show.
In my hometown, a little girl was murdered a few years ago when she went off by herself riding a bike, and I remember thinking, "I can't believe it's become too dangerous to let kids ride bikes these days!" So now all our bike riding is done as a family, with parental supervision. Like the mother in this book, I drive people places and I bring them home because I want to know where they are, who they're with, and what they're doing. But it can be exhausting, all the keeping up!
This is a reassuring book for moms (and dads) that what we're doing is important work, and it's no small thing to make a little girl feel loved and safe. Diane Goode's illustrations capture the humor on every page, with enough detail to render multiple readings an enjoyable task. (Goode illustrated another of my all-time favorite picture books, Cynthia Rylant's When I Was Young in the Mountains.)
After checking out Kate Feiffer's website, it looks like she and Goode have teamed up to create another humorous picture book, But I Wanted a Baby Brother! I'll have to add this one to my reading list.
Here's a cute video where girls explain how their moms embarrass them. I hope it make you smile!