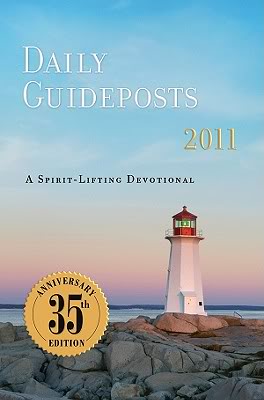 [Update: Congratulations to Lynda! You've won the 2011 Daily Guideposts devotional book. May you be blessed with a year filled with joy!]
I have a beautiful 35th anniversary edition of the 2011 Daily Guideposts to give one of you. It would make a wonderful gift for anyone on your Christmas list — Sunday school teachers, friends, school teachers, colleagues, grandparents, anyone — even for YOURSELF. These inspiring devotionals will lift you up every day of the coming year.
More than 50 writers have contributed their true, first-person stories to this lovely hardback copy, each including a scripture reading and prayer. They share how God has interceded in their lives to transform personal relationships, jobs, families, and faith.
Two of my favorite Georgia authors, Marion Bond West, and her daughter, Julie West Garmon, have both contributed several stories to this edition. You can get to know them here at their Guideposts Woman to Woman blog. I always look forward to what they have to say, as they're both a few steps ahead of me in years and wisdom.
Julie shares that her husband Rick turned 50 this year and their youngest son is finishing up high school. She writes, "Rick and I now have parties for two every morning before the sun comes up. We sit on our front porch in rocking chairs, drink coffee and celebrate each morning … As our children have grown, so has our love for each other. And we're beginning to discover what matters most. Some truths only come with time."
I would love to send one of you a copy! Please leave a comment here or email me by this Sunday evening, December 5th. I'll draw a name on Monday morning!