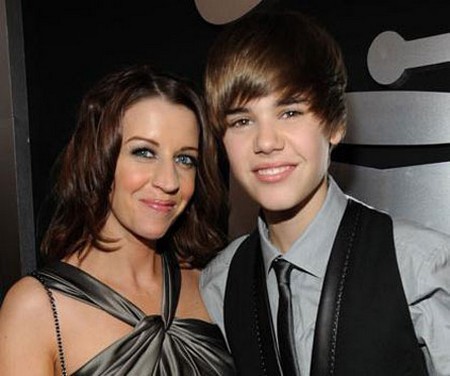 I confess. I've caught a bit of spring fever.
We've had a few days of sunshine here that have teased me into thinking I need a break. A spring break!
But we've still got a solid month of school — and testing — coming up before we're out on holidays. So, although I'd rather be stretched out under a seaside umbrella, I decided to do the next best thing…
I gathered a group up to go see Justin Bieber's Never Say Never — in 3D!
I'll tell you right off the bat: we squealed and laughed almost the entire time. (Justin Bieber was ADORABLE as a preschooler!) This is such a fun movie for girls and their moms to go see. We were all wearing these giant 3D red and blue glasses watching a teen POP STAR grow up from baby to toddler to adored performer, who at this point is clean-cut and publicly praises his own mom — what's not to love?
To me, the real heroine of the movie is Justin's mom, Pattie Mallette. She was the one behind the video camera, capturing those precious images of him as a toddler beating on the seat of a chair. She bought him his first drum set and filmed him, never realizing these images would one day make it into a movie about her famous son's first sixteen years of life.
OK, so of course everyone knows who Justin Bieber is (right?). Before seeing this movie, I only knew Justin from the covers of magazines, the ones I see while waiting in the grocery checkout line. Cute kid, cute hair, is about all I knew.
I had also heard an interview with him on NPR a couple of years ago, and I knew he had a sweet song where he sings "Baby, Baby Baby — ooh!" and that he was discovered on Youtube. That's it!
So I totally didn't expect to be COMPLETELY mesmerized by his story during "Never Say Never," which sounds like a fairy tale. He was born to a teen mom in London, Ontario and raised in the tiny town of Stratford. He was very close to his maternal grandparents, and in the movie, you see him sitting in his grandfather's lap, just like any kid. He played sports and became interested in music, teaching himself to play drums, piano, guitar, and trumpet.
He liked sitting on the steps of an auditorium in his hometown playing guitar and singing. When he sang, people all over the town would open the windows to let his voice drift in. Yeah, there was something about that kid…
So he entered a singing contest, at age 12 — and got second place. But his mom recorded it, and she and Justin decided, "Hey, let's put it on youtube" so family and friends who couldn't make it could see him singing.
Then one day, a music manager in ATLANTA, of all places, accidentally clicked on Justin's youtube video, and by this time, his mom had put several songs online. This guy, Scooter Braun, figured out where Justin lived, contacted him through his mom, (that must have been freaky!), and invited them both to come down to Atlanta to meet a few people and record some demos.
Now, this part of the story has become legendary: in the parking lot of the studio, Justin saw one of his favorite recording artists, Usher, and asked if he could sing for him. At first, Usher was a little too busy. But eventually he took a minute to hear this kid from Canada sing. And — he discovered a future star! So Usher and Braun took Justin under their wings and helped him get his first record deal with Island Music.
Then they invited Bieber and his mom to move to Atlanta! Scary! And they did. See, how I admire his mom? She must have done a lot of praying to know this was the right thing to do. Anyway, his first album was a huge success. Justin also built up his own following through social networking. As of today, his Twitter site has close to 8 million followers. In 2010, he won "Artist of the Year" from the American Music Awards.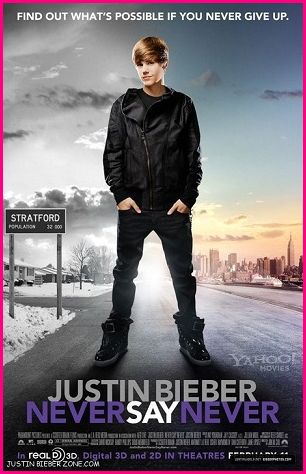 The "Never Say Never" movie is a documentary leading up to his sold-out Madison Square Garden concert, with real footage from many of his other performances. You get to feel like you're in the audience, watching him jump out at you and sing away. And at one point, he takes a break from the behind-the-scenes concert tour to speak to movie-goers, telling us to quit texting and pay attention! It was really cute.
I'm sure this is the closest I'll ever get to see him in concert, so it was a bargain price for us. We thoroughly enjoyed it, and I wish Justin Bieber and his mom all the best. I've heard that tomorrow, March 1, is his 17th birthday. I hope he'll keep producing good clean music with lyrics that moms will let their kids listen to!
Happy Birthday, Justin Bieber, from all of us here at Mom 2 Mom Connection!
* Here's one of his recent tweets (2 hours ago, as of this writing):
im never gonna change…i will always remember…i will always be that kid from stratford…I will always be grateful.