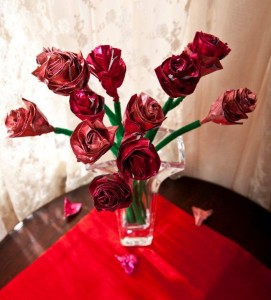 Valentine's weekend is coming up, and if you're like me, you've got multiple kids who need a million Valentines to pass out to classmates and teachers. Some years, we've done the Wal-Mart dash and scribbled names on store-bought Valentines. That works, and you can check it off your list.
But this year, my three crafty daughters are old enough to manage their own projects. So I'm planning to let them have at it, supplying them with colored paper, scissors, glue, and doo-dads galore. It will keep them busy for a few hours, and they'll end up using their creativity in ways they can share with their friends.
Here's an idea I LOVE sent to me by author and CHOCOLATE EXPERT, Beth Kimmerle. (Does she have a dream job or what?) To make these gorgeous Valentine Foil Roses, you get to use the foil saved from your chewing gum!
Thank you, Beth, for a great girly girl craft project! 😉
Beth advises, "Look for gum available in flavors with fun, floral colors. Just fold the foil into tulips or roses, secure to a stem pipe cleaner and voila, a unique floral arrangement that won't wilt!"
Supplies:
*5 gum Wrappers
*Pipe Cleaners
*Scissors
*Craft glue
Directions:
1. Cut Pipe cleaners into two pieces with sharp scissors.
2. Fold foil wrapper into half lengthwise and using pipe cleaner, pierce through folded section about ½" from end.
3. Wrap foil around pipe cleaner to create a "flower" and twist at bottom to secure. Use glue if necessary.
4. Using green foil, make "leaves". Fold green foil twice lengthwise and wrap around bottom of flower. Twist foil to resemble leaves.
5. Repeat making flowers on end of pipe cleaners until your have a bouquet of 20 or so flowers.
6. Use a pipe cleaner and tie bunch around wrist to create a corsage or use one or two and pin on date for a funky boutonniere.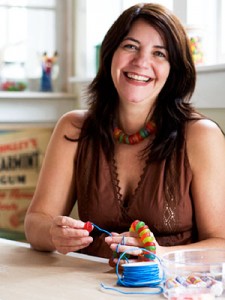 Beth Kimmerle, chocolate and candy expert and historian, served the confectionery industry as a writer and consultant. Ms. Kimmerle was the
director of the American Museum of Candy History and more recently has worked on chocolate museums in Sapporo, Japan and San Juan, Puerto Rico. She is the author of four books documenting the history of America's confectionery industry. Beth has made appearances on the Food Network, History Channel, National Public Radio, NBC's The Today Show and Martha Stewart Living. She has been a featured candy-making instructor and lecturer at The Ritz Carlton, Princeton University, and the New York Chocolate Show.