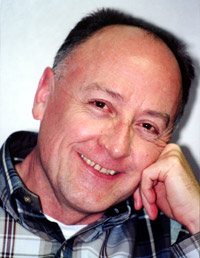 In yesterday's Publisher's Weekly, I read the sad news that Dr. George Edward Stanley, children's author and professor of languages, passed away suddenly at the age of 68. Dr. Stanley was one of my first writing teachers when I signed up to take a correspondence course at the age of 20 from the Institute of Children's Literature.
He asked me to address him simply as "George," and I've kept his letters and notes from my course assignments these past 20+ years. Now, of course, I treasure them even more. Dr. Stanley was a wonderful mentor for me, and his early encouragement helped keep my writing dreams alive. Although I have yet to publish my own children's novel, I still live as one devoted to the world of children's literature, especially as the mother of five kids who love to read great books.
I wanted to share with you some of George Edward Stanley's many accomplishments that I found on a memorial page devoted to him:
George graduated from Memphis High School in 1960. He took his B.A. (1965) and his M.A. (1967) from Texas Tech University. His Doctor Litterarum (1974) in African Linguistics is from the University of Port Elizabeth [now Nelson Mandela Metropolitan University] in South Africa.

It was while he was a Fulbright professor in Chad, in central Africa, that Dr. Stanley began writing fiction. About the only diversion he found available in that nation's capital city of N'Djamena was listening to the BBC on his short wave radio. That led to his writing radio plays for a program called World Service Short Story. Three of his plays were eventually produced and so began a lifetime of entertaining and educating children and young adults.

After writing and publishing over 200 short stories in American, British, Irish, and South African magazines and linguistics articles in major international journals, Dr. Stanley turned to writing books. He wrote more than 100 books for young people and one book on writing, WRITING SHORT STORIES FOR YOUNG PEOPLE.

Dr. Stanley was also working on several other books for young people, as well as textbooks for teaching Arabic, Hausa, Indonesian, Persian, Swahili, and Urdu.

Dr. Stanley was a Professor of African and Middle-Eastern Languages and Linguistics in the Department of Foreign Languages at Cameron University. At one time or another he has taught all the Germanic and Romance languages, in addition to African and Middle-Eastern languages.
I also found a listing on his home page at Cameron University of over 100 children's books he published, including books written under his own name as well as several well-known pseudonyms.
Still, out of all these many accomplishments, the fact that he found time to work with unknown, fledgling writers through a correspondence school shows how dedicated he was to the field of children's writing. I know that he'll be greatly missed by all of his current and former students, as well as those who knew and loved him.
His funeral is today in Oklahoma. May he rest in peace, and may his life's work continue to be an inspiration to those who follow in his footsteps.