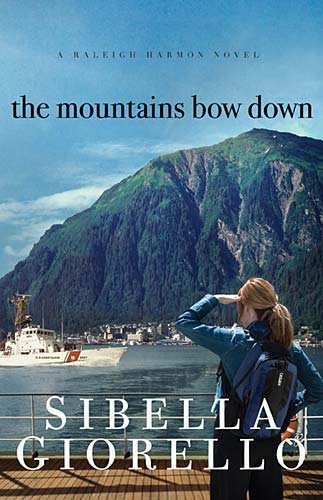 I love to travel, don't you? In my 20s, I enjoyed wandering the planet as an itinerant English teacher, but these days, I'm thankful if I get to travel a few hours from home. I do most of my globe trekking from the cheap seat of my armchair — and that is why I LOVED reading Sibella Giorello's latest novel, The Mountains Bow Down.
Why? Because this author whisked me away to the wilds of Alaska! On a cruise ship, The Spirit of Odysseus. Where I got to see glaciers through sentences like this:
Smothered with evergreens, the steeps pointed to a sky so blue it whispered of eternity … And where a liquid silver sea lapped the rocky shore, a bald eagle surveyed the cold water for fish.
*Aah.*
Not only was the setting of this book thrilling, I also thoroughly enjoyed spending time in the mind of FBI agent, Raleigh Harmon, who uses the fascinating field of forensic geology to solve her crimes. And yes — a crime does take place aboard the ship. While most of the passengers are lounging, eating, and gazing at the gorgeous scenery, a woman goes missing and tragedy occurs. In the short span of a 5-day cruise, it's up to Raleigh Harmon and her Tom Cruise-like sidekick, Special Agent Jack Stephenson, to piece together the mystery and put a monster behind bars.
So there's a little romance on board, though Raleigh isn't too swayed by Jack's charm and stays focused on her mission of justice. As I read the book, I kept sneaking peeks at the author's photo, thinking this book has to be somewhat autobiographical! Sibella Giorello grew up in Alaska and majored in geology. I could imagine her as the novel's heroine, an FBI agent solving a crime based on microscopic dust fibers. It was so cool to learn how this is done. (Especially since I'm married to a geologist.)
Here's the back cover copy of the book, if you'd like to learn more:

Everything's going to work out. Time away always makes things better…
That's what FBI Special Agent Raleigh Harmon believes as she boards a cruise to Alaska. A land of mountains and gems and minerals, The Last Frontier is a dream destination for this forensic geologist who's hoping to leave behind a hectic work schedule and an engagement drained of romance.
But when a passenger goes missing and winds up dead, Raleigh's vacation suddenly gets lost at sea. The ship's security chief tries to rule the death a suicide, but Raleigh's forensics background points to a much darker conclusion: Somewhere onboard, a ruthless murderer walks free.
Engulfed by one of her toughest cases yet, Raleigh requests assistance from the FBI and receives her nemesis-perpetual ladies man Special Agent Jack Stephanson. As the cruise ship sails through the Inside Passage, Raleigh has five days to solve a high-profile murder, provide consultation for a movie filming onboard, and figure out her increasingly complicated feelings for Jack-who might not be such a jerk after all.
And that's only her work life. Family offers even more challenges. Joined on the cruise by her mother and aunt, Raleigh watches helplessly as disturbing rifts splinter her family.
Like the scenery that surrounds the cruise ship, Raleigh discovers a situation so steep and so complex that even the mountains might bow down before it.
I hope you have a chance to read this book, and if you click on the picture below, you also have a chance to win a getaway on your own Alaskan Cruise!
Sibella's celebrating the release of The Mountains Bow Down with a blog tour, a Cruise prize pack worth over $500 and a Facebook Party! Don't miss a minute of the fun.
One Grand Prize winner will receive:
A $500 gift certificate toward the cruise of their choice from Vacations To Go.
The entire set of the Raleigh Harmon series.
To enter click one of the icons below. Then tell your friends. And enter soon – the giveaway ends on 4/1! The winner will be announced at Sibella's Raleigh Harmon Book Club Party on FB April 5th, 2011! Don't miss the fun – prizes, books and gab!
About the Facebook Party: Join Sibella and fans of the Raleigh Harmon series on April 5th at 5:00 pm PST (6 MST, 7 CST & 8 EST) for a Facebook Book Club Party. Sibella will be giving away some fun prizes, testing your trivia skills and hosting a book chat about the Raleigh Harmon books. Have questions you'd like to chat about – leave them on the Event page.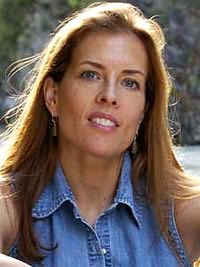 Sibella Giorello grew up in Alaska and majored in geology at Mount Holyoke College. After riding a motorcycle across the country, she worked as a features writer for the Richmond Times-Dispatch. Her stories have won state and national awards, including two nominations for the Pulitzer Prize. She now lives in Washington state with her husband and sons. Find out more about Sibella and her other books at her website. www.sibellagiorello.com