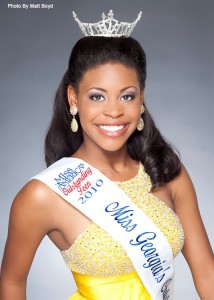 My three daughters and I were extremely blessed to hear Miss Camille Sims speak in person at a Mother/Daughter Tea last weekend. Isn't she lovely? She is the 2010 Miss Georgia Outstanding Teen and she was also crowned Miss Junior Teen United States 2008.
While we sipped peach tea and munched on dainty cucumber sandwiches, Camille gave a speech and then entertained us further by singing Ella Fitzgerald's A Tisket A Tasket. It was easy to see why she wowed the judges in her pageant performances. My youngest daughter asked with wide eyes, "Is she a real princess?" and the others wanted to know how she got her crown to stay on her head.
Miss Sims is a poised and talented young woman, representing my native state of Georgia in a platform of "Fighting Hunger and Improving Wellness." She travels around the world inspiring young women to work hard in school and in all their endeavors so they'll be able to reach out and bless others who are less fortunate.
I'm always on the lookout for mentors for my daughters, especially as we're entering the teen years. In her talk, Camille publicly praised her mother who was in attendance, and she told the girls in the room, "If I could give you any advice today, it would be to listen to your mother." Don't you know I loved hearing that! She explained that her mother is the reason why she has become the person she is today.
Miss Sims graduates from an Atlanta high school this month with a 4.3 GPA and will be attending Cornell University on scholarship. I asked her if she was excited about moving to New York, and she said she really is. I know God has great plans for this inspiring young woman, and I wish her all the best in her journey ahead!