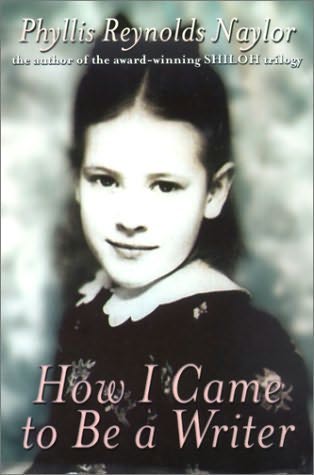 Last weekend, I was looking for something fun and short to read, and a quick glance around my home led me to Phyllis Reynolds Naylor's How I Came to Be a Writer. It's been years since I picked it up, and while reading it this time, I felt like I was cast under the author's spell, though outwardly I kept one eye on guinea pigs, children, and a tennis-ball chasing dog frolicking around our sunny backyard.
In fact, the whole time I was reading it, I kept thinking, I've got to blog about this! There must be one of you at least who needs a jolt of writing inspiration, and this is the book to do it. Have you heard of Phyllis Reynolds Naylor? Her most famous work is Shiloh, which won the 1992 Newbery Award, but her long writing career has spanned seven decades as she's penned over 130 books for readers of all ages. She's definitely a good mentor for anyone longing to pursue the publication of fiction.
Ms. Naylor's first writing break came when she was only 16 years old, and a former Sunday school teacher wrote to ask if she'd be interested in submitting a story to the church school paper she now edited. Right away, Phyllis came up with a sentimental baseball story called "Mike's Hero." Her teacher-turned-editor loved it and bought it for $4.67. (Since Phyllis was born in 1933, I'm assuming this happened around 1949.) She kept contributing more stories to church papers and magazines, then started her own humor column, told from the point of view of a 15-year-old boy named P.R. Tedesco. She wrote this for 25 years, and it helped her find her voice as a humor writer, as she describes:
Because I could write about anything at all in the column — friends, fears, parents, school, God — ideas were not hard to think up. By the time I discontinued the series, I had learned to write about serious subjects — segregation, prejudice, capital punishment, and the Vietnam War — in a sardonic way that would still interest teenage readers. The most difficult problem, strangely, was answering an occasional fan letter like this one:

Dear Mr. Tedesco,
You really tell it like it is, Man! What does your girlfriend think of your writing?
Naylor made the shift to publishing books in 1965, by submitting a selection of her short stories, which came out under the title, The Galloping Goat and Other Stories. This led to a another collection of short stories, and then at last, a contract for her first novel. I love how she describes the journey of moving from writing short pieces to writing a whole novel — since this is such a struggle for many writers. She said at first she made the mistake of "trying to throw in everything but the kitchen sink," which caught the attention of an astute editor, who asked her to revise it. She rewrote the whole book following the editor's suggestions for improvement, and What the Gulls Were Singing became her first published novel in 1967.
And she's kept going. What I love about this autobiography is that Phyllis includes many of her early writings and then describes how she would improve them. She's a writer who never stops growing, and this inspires me, because I can see that writing is a worthy passion of a lifetime. She didn't stop and sit back on her laurels when she won the Newbery in 1992. She kept on going — in fact, Shiloh was only one book in the Shiloh trilogy.
Go Phyllis.
She is not a one-book wonder, like some of the great writers I've read in the past year: Margaret Mitchell, Harper Lee, J.D. Salinger. Here are authors who wrote one book and then lost the magic, or the muse, or whatever it took to get their work out there. Phyllis is nearly 80 years old, and she's still writing. Her latest book came out this year.
I couldn't find a website under her name, but I found that she's actually blogging here at Alice McKinley.com. Alice is a character from another one of her popular book series, and is based on her own life. At this point, she's published 27 books in the series, and she's going to end it at book 28. From glancing through the blog, I can see she's extremely popular in Germany. In fact, one of her fans wrote that she couldn't stand the length of time she had to wait until the books were translated into German, so she learned to read them in English.
I'm not familiar with the Alice series, so I'm unable to endorse their content, but can't we as writers learn something from an author who's won the top award in children's literature and kept on going to reach the hearts of readers? On her blog, Phyllis Reynolds Naylor says this about her writing process:
I guess they "just come to me." I don't have any process. I simply try to become whichever girl I'm writing about–the whole girl–what her family sees of her, what her friends see, how she feels inside, what she worries about–all the things that are going on in her life. Writing is always "striking a balance" with humor, serious stuff, body worries, boyfriend problems, philosophical questions
. I have a very good memory of myself growing up and what was happening to me–what I was thinking about–at all ages, and these probably form the basis of my books.
I would love to hear Phyllis Reynolds Naylor speak at a conference someday. I wonder if she still gets out and speaks. She is someone like Katherine Paterson, whose keynote I heard in New York several years ago, and it still stays with me. I don't know that I'll ever find the courage to finish the novels I've started and abandoned, like orphaned children, on my computer, but at least I've been inspired to share her journey with you!
And it all began with this little girl, Phyllis, being read to by her parents. Her father would act out voices as he read Huckleberry Finn, and her mother kept reading great books out loud well into her children's teen years.
Which reminds me — summer is around the corner. And I know the perfect book to start reading my 8-year-old son as soon as school is out. I have it sitting here right beside me, and I'm thinking maybe I'll even start reading it tonight.
Care to join us?