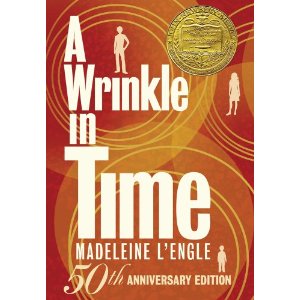 I was thrilled to see that a new 50th anniversary edition of A Wrinkle in Time is coming out next month — too bad it's not in time for Christmas because this would be at the top of my Christmas wish list!
Fans of Madeleine L'Engle's writings will want to own a copy of this new edition, which contains a forward by Katherine Paterson, an afterword by Madeleine L'Engle's granddaughter, Charlotte Jones Voiklis, as well as photographs and memorabilia, the author's Newbery Medal acceptance speech, and other bonus materials.
Although I wasn't crazy about Disney's movie version which came out in 2004, I'm so glad we own the DVD because it contains a beautiful interview with Madeleine L'Engle, in which she describes how she wrote the draft of the book in about two weeks, in between changing diapers and reading aloud to her children. It was rejected over 25 times before it was finally accepted by an editor at Farrar, Straus and Giroux, earning her the Newbery Medal in 1963.
I LOVE this book — I remember reading it the first time in third grade, when our family had moved to a new city, and I didn't know a soul. A kind librarian in my new school showed me the fiction reading room and told me, "I think you'll enjoy this book," handing me A Wrinkle in Time. Oh, how I fell in love — and even more so now, as a parent, I love the book because of the Christian message that love conquers all things, even fear.
You can read more about this upcoming new edition here, in Publisher's Weekly.