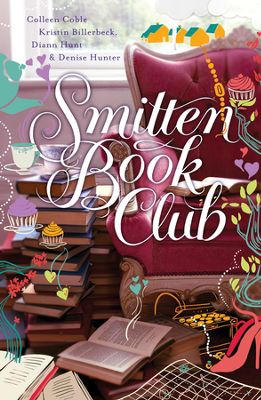 I've been reading another fun book lately that has kept my mind happily occupied while inching through car rider pick-up lines.
Smitten Book Club
is the third book in the
Smitten series,
written by four well-known Christian authors: Colleen Coble, Kristin Billerbeck, Diann Hunt, and Denise Hunter.
Set in the cozy fictional town of Smitten, Vermont, each author contributed one section to the book, writing from the viewpoint of a character in the Fireside Book Club. Their individual stories fit together like pieces of a quilt, and it was hard to tell they weren't all written by the same author.
Here's the main plot: while hosting a rummage sale in support of club member, Molly, who has recently lost her firefighter husband in a tragic accident, Heather discovers an antique book with the title, A Gentlewoman's Guide to Love and Courtship, penned by once-famous Smitten resident Pearl Chambers. She wonders whether this century-old tome may actually offer some wisdom for modern relationships and shares it with the other members of her book club.
Each chapter begins with a charming quote from Pearl Chambers, and I enjoyed seeing how the characters find something uniquely personal and relevant to apply to their daily lives. And there's another surprise: a handwritten note tucked inside says the book offers clues to a gold mine hidden on the property belonging to Molly's deceased husband. If she could only find the gold, perhaps she'd discover a way to salvage the expedition business her husband started … and save the home that's been in his family for generations.
The book club members — Heather, Molly, Abby, and Lia — dissect Pearl's book individually, trying to decipher the possible hidden messages that may lead to the treasure of gold. I especially loved reading Kristin Billerbeck's section focusing on the character of Abby, a librarian who relates to the world through her favorite Jane Austen literary heroines. She also tackles her sleuthing adventures in a way similar to Nancy Drew, decoding words with hidden meanings.
I've always relished the hilarious chick-lit books by author Kristin Billerbeck, and I interviewed her several years ago on my blog here. Colleen Coble also visited Mom 2 Mom Connection a few years back, and I reviewed Diann Hunt's book, RV There Yet for Christian Women Online. I was sad to read that Diann Hunt passed away from cancer right before this book went to press, so it must have been bittersweet for the four writers to work together one last time. The authors' collaborative blog, Girls Write Out, has been one of my favorite spots to visit for years.
I missed reading the first two books in the Smitten series, but since I enjoyed this one so much, I'll have to find copies of the first two and get caught up. Keep reading below to learn more about upcoming events surrounding this book's release!

*****

The Smitten gals are back with their newest release, Smitten Book Club! Colleen Coble, Kristin Billerbeck, and Denise Hunter are celebrating with a Kindle Fire giveaway, a Facebook party on February 20, and a nationwide book-club brunch on March 22.




One winner will receive:

A Kindle Fire HDX
The Smitten books (Smitten, Secretly Smitten, Smitten Book Club)
Enter today by clicking one of the icons below. But hurry, the giveaway ends on February 20th. Winner will be announced at the Smitten Book Club Facebook Author Chat Party on February 20th. Connect with Colleen Coble, Denise Hunter, and Kristin Billerbeck for an evening of book chat, trivia, laughter, and more! The Smitten gals will also be taking questions from the audience, giving away books and gift certificates, and sharing news about their upcoming nationwide Smitten Book Club brunch on March 22nd. (Sign up to host today!)



So grab your copy of Smitten Book Club and join Colleen, Denise, Kristin, and friends on the evening of February 20th for a chance to connect and make some new friends. (If you haven't read the book, don't let that stop you from coming!)
Don't miss a moment of the fun; RSVP today. Tell your friends via FACEBOOK or TWITTER and increase your chances of winning. Hope to see you on the 20th!
Sign up to host a Smitten Book Club Brunch on March 22nd!
Meet the authors: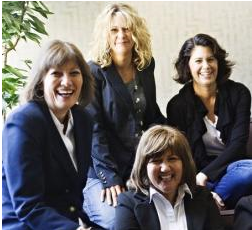 RITA-finalist Colleen Coble is the author of several best-selling romantic suspense novels, including Tidewater Inn, and the Mercy Falls, Lonestar, and Rock Harbor series.
Christy Award finalist and two-time winner of the ACFW Book of the Year award, Kristin Billerbeck has appeared on The Today Show and has been featured in the New York Times. Her books include A Billion Reasons Why and What a Girl Wants.
Denise Hunter is the award-winning and best-selling author of several novels, including A Cowboy's Touch and Sweetwater Gap. She and her husband are raising three boys in Indiana.
Diann Hunt has lived in Indiana forever, been happily married forever, loves her family, chocolate, her friends, her dog, and, well, chocolate. Diann lost her courageous battle with cancer in December 2013.
Blogger's Note: I received this book from Litfuse in exchange for my honest review.