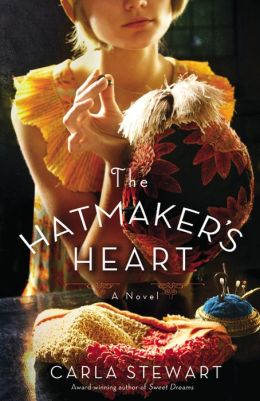 A few weeks ago, my daughter's high school staged a production of Meredith Willson's 1957 Broadway show, "The Music Man." The story takes place in River City, Iowa, in the year 1912, so the costuming committee asked for volunteers to help make Edwardian hats for the women of the town. We showed up armed with glue guns, silk flowers, ribbon, tulle, feathers and an assortment of plain straw beach hats.
For several hours, we pretended to be milliners, designing and constructing hats that might have graced the heads of first-class passengers aboard the Titanic. I had more fun than I thought possible, despite burning my fingers with hot glue and needing lots of design help from my artistic teen daughter and other fellow milliners. When it was showtime, I was excited to see how a few hours of creative work helped transform a cast of modern teens into characters from a century ago.
So, when I heard about Carla Stewart's latest novel, The Hatmaker's Heart, I couldn't wait to read it! I love books set during the Jazz Age, the roaring 20s, and this one promised to whisk me away to New York City, a welcome escape from the heat and humidity of summer in Georgia.
The story begins in 1922. Nell Marchwold has landed a job working in the Oscar Fields Millinery; she's a rising star in the field of design, following her childhood dream of helping women realize their inner and outer beauty while wearing one of her handmade hats.
Nell's life hasn't been easy up until this point. The tragic death of her father in the Great War has forced her mother and younger sister to leave their beautiful estate in England and move across the Atlantic to live near relatives in the state of Kentucky. When Nell designs some hats worn by the fashionable elite at the Kentucky Derby, her talent is discovered by none other than Oscar Fields himself, and he invites her to New York to live with his niece and work as his junior apprentice.
But Oscar Fields is a difficult man to please. His constant criticism wears on Nell, yet she's determined to learn and grow under his tutelage. When Nell's unique designs begin to catch on, her boss holds her back from the limelight, claiming the stutter she's had since childhood reflects poorly on his salon's reputation.
An older, wealthy client recommends a therapist who can help Nell possibly overcome her speech impediment, and I found this part of the book interesting, as the doctor explores Nell's past to gain understanding into why she stutters. In many ways, this reminded me of The King's Speech, one of my favorite films, and we see how Nell's therapy makes her even more determined as she overcomes personal obstacles.
There's a steady source of tension between Nell and Oscar, as she's offered the opportunity to partner with an up-and-coming clothing designer for his 1922 collection. Her boss constantly reminds her that her value comes only from him, and he owns all rights to her personal work.
Because Nell is British, publicity for her design work leads to an invitation from London to set up temporary shop overseas to possibly create hats for the upcoming royal wedding between Prince Albert, Duke of York, and Lady Elizabeth Bowes-Lyon. I enjoyed reading this section of the book, which has Nell voyaging as a first-class steamship passenger, surrounded by high society and inspiration for her designs. She spends her afternoons aboard ship sketching ideas in her room. To me, she is like a novelist who spends time observing and writing, though her creations take shape not as books but as beautiful hats.
As time passes, we learn of Nell's childhood friend, Quentin, with whom she has corresponded for years. Nell has many choices to make as far as what she wants to put first in her life: her career, her family on both sides of the Atlantic, her new and old friends, and Quentin. Through it all, she holds a Bible verse close to heart, handstitched by her grandmother: "Strength and honor are her clothing" (Proverbs 31:25).
Nell's heart is being pulled in different directions, and she must decide what she's willing to sacrifice for her dream, and what her dream truly is. The novel spirals deeper and deeper into Nell's past secrets and her longings for the future. She reminded me so much of how I felt as a young 20-something, and I think this book will appeal to a wide range of readers. The Hatmaker's Heart would be a fun selection for book clubs — the back contains a reading group guide, and it would lend itself easily to a roaring 20s themed party!
As I read each chapter, I loved envisioning Nell's colorful Jazz-age fashions. I wondered if Zelda Fitzgerald would have frequented the Oscar Fields Millinery Shop, and I could even hear saxophone music in my head when Nell went out dancing with her flatmates. The author did a wonderful job researching so that I felt like I was there, ready to place my own order for a new hat.
Author Carla Stewart is hosting an amazing Jazzy Hatmaker's Heart giveaway (see photo below) from her website. Not only can you win a copy of the book, she also has all sorts of goodies to share with you. Be sure to enter her contest by June 14!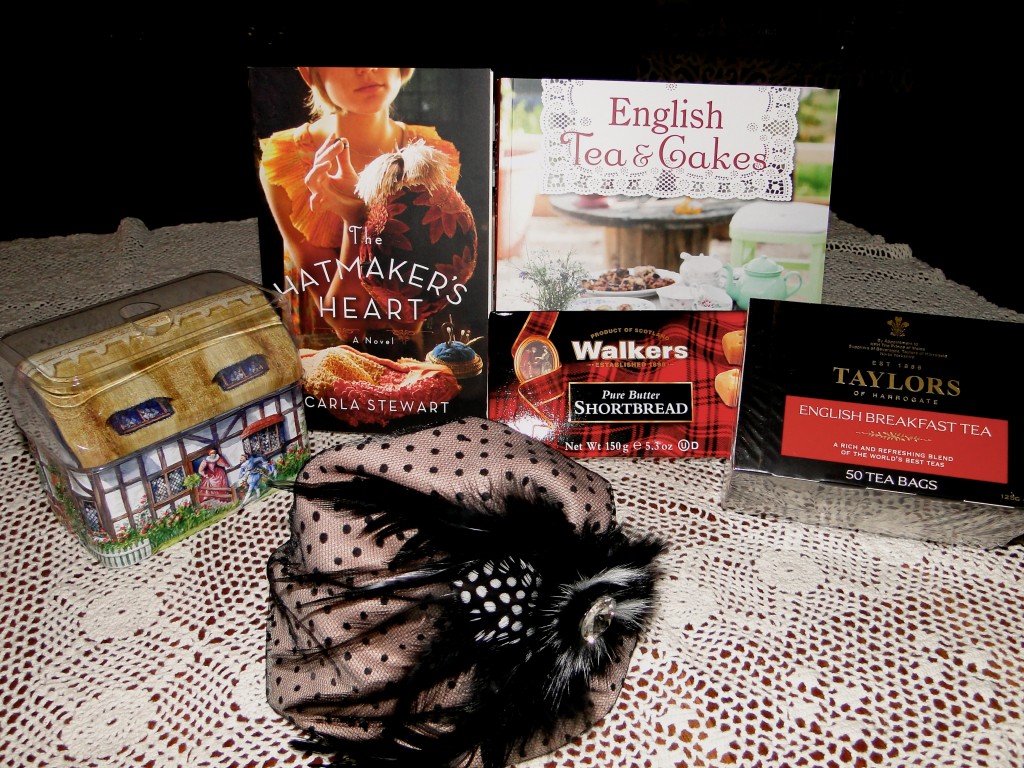 Meet the Author:

Carla Stewart is the award-winning author of five novels. With a passion for times gone by, it is her desire to take readers back to that warm, familiar place in their hearts called "home." She and her husband live in Tulsa and have four adult sons and six grandchildren (with one on the way!). Learn more at www.carlastewart.com.
Disclosure: Thank you to Litfuse for sending me a complimentary review copy.