Happy Spring everyone! I hope you're enjoying this beautiful season in your corner of the earth, wherever you are. When I first saw the cover of Gwen's Smith's new book, the title jumped out at me, like that sign was written to get MY attention.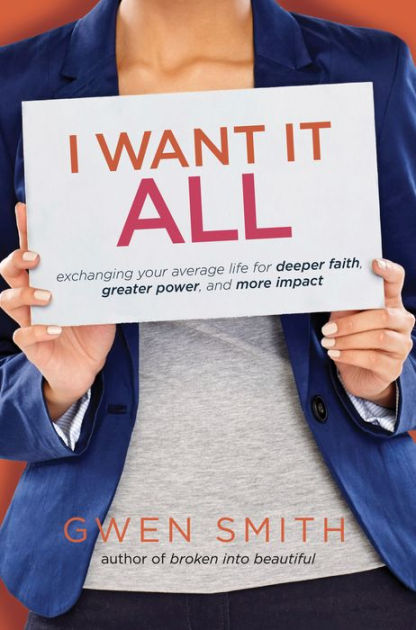 I'm certainly guilty of feeling like I always want a little more, and so I thought this book might speak to me about learning to be more content, more satisfied with the gifts God's given me. Instead, it pushed me into deep conviction.
I didn't realize Gwen Smith is a singer/songwriter, as well as an author, yet I was soon mesmerized by her poetic cadence:
Lord, I want it all today
Every blessing you ordain
Every trial, every strain
Break and build me for your gain.
In fact, if you've never heard her speak or sing in person, I think you should stop reading right now, and listen to her voice share these words with you. I would not even call them words — they're lyrics.
The book begins with a quote from one of my all-time favorite authors, Elisabeth Elliot, who wrote in Through Gates of Splendor: "I have one desire now — to live a life of reckless abandon for the Lord, putting all my energy and strength into it." Every woman reading this knows our energy is limited, no matter how old we are. We can't possibly say yes to everything asked of us and get it all done, so it's a crucial decision: where are we supposed to put our energy and strength to live this life of reckless abandon?
Reading I Want It All will definitely give you ideas of your uniquely personal calling. It's divided into three main parts: All the Faith, All the Power, and All the Impact. As you increase your faith, you'll be able to tap into the power available to you through the Holy Spirit, and live with greater impact.
Each chapter begins with a personal story from the author's life, so in many ways, this reads like a memoir, which is my favorite type of non-fiction book. I love it when a writer is brave enough to allow thousands of strangers to peek into her heart. She's also deeply knowledgeable about Scripture and how it applies to the life of the 21st century woman. She says her three "go-to principles" for gaining wisdom are:
1. Fear God.
2. Ask God.
3. Seek godly counsel.
I've heard these statements before, but Gwen brings such a freshness and zeal with her personal stories about how she seeks wisdom as one digging for sparkling rare gems. "Look for it as for silver and search for it as for hidden treasure, then you will understand the fear of the Lord and find the knowledge of God" (Proverbs 2:4-5).
This book would work great for a women's Bible Study or Book Club, as each chapter ends with Reflection and Response questions. There's also an extensive Study Guide in the back section that would make it very easy for anyone to pick up and lead. While reading, I realized that's truly the value of inspirational books, when you can get together with others and share Truth.
Once again, I will defer to this energetic author, Gwen Smith, and let her share with you her purposes for getting this book into your hands!
I had to laugh at the title of her last chapter "Who Me? Yeah You? Couldn't Be! Then Who!" I grew up in the 80s and played many rounds of "Who Stole the Cookie from the Cookie Jar?" In fact, this game worked well in my English classes when I taught junior high students years ago in Japan.
But Gwen's point here really convicted me — sometimes we want to ignore the pricking of the Holy Spirit when God calls us to be open to opportunities He gives us. I was really amazed at reading some of her stories of how she talks to people in airports, coffee shops, and grocery stores, taking a few extra moments to realize God has put that person in her path for a Divine Appointment. I thought of how often I rush by someone with a smile and a quick "Hi!" instead of stopping to really ask how they're doing. Yet, I've crossed paths with many people who are just the opposite, and have taken the time to really reach out to me.
Gwen writes:
Being salt and light and pointing people to Jesus doesn't mean we need to start handing out Bible tracts on street corners…It means that you and I should be open to the random God opportunities He brings our way each day, and we should intentionally bless others on His behalf.
So, you can see why this book is easy to recommend — fresh, energetic, and inspiring. Definitely a great pick-me-up for Spring reading.
Enjoy!
About the Author: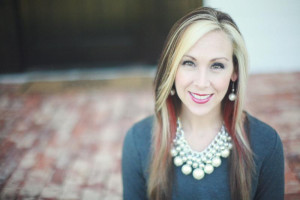 Gwen Smith is an author and volleyball enthusiast who lives in sunny North Carolina and has been married to her college honey, Brad, for 23 years. They are tired parents to three competitive-sport-playing teens who keep them on their toes and on their knees. Her online friends meet at GwenSmith.net to connect and be encouraged, and her goal is to help women think big thoughts about God and be inspired to live out the grace and truth of Jesus. Gwen speaks, leads worship, and eats potato chips at women's events everywhere, and she is a co-founder of the conference and devotional ministry Girlfriends in God.
Thank you to the wonderful staff at Litfuse for sending me a complimentary copy of this book for review.