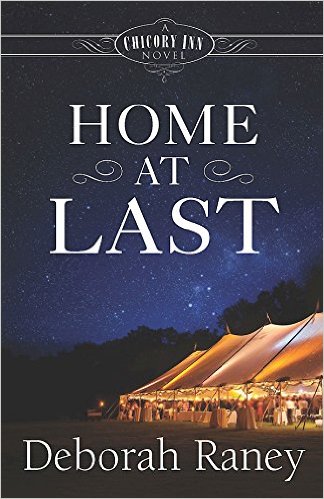 I started reading Deborah Raney's five-book Chicory Inn series in the summer of 2014, and so it's with a sigh I've reached the closing chapter of her Whitman family saga. It's similar to how I felt while viewing the final episode of
Downton Abbey.
In her author's note at the beginning of Home at Last, Deborah Raney expressed similar emotions:
It seems like only yesterday that I was signing the contract for this five-book series. I could hardly imagine a day when the first book would be finished, let alone a day when I'd be writing "the end" on the final book! But here I am, and I must admit I shed a few tears saying good-bye to the Whitman family. We authors are strange that way. Our characters do become like family to us.
Over the past three years, the Whitmans have become like family to me, as I've worked my way through the series and gotten to witness the writing process a bit through Deborah Raney's facebook posts. I plan to catch up and review the fourth novel once school is out for summer. These books have been sent to me by the wonderful team at Litfuse, but you can easily find them online or in stores like Wal-Mart or Target. I highly recommend the Chicory Inn novels for women who want to read something positive and uplifting.
Here are the five titles:
Book 1: Home to Chicory Lane
Book 2: Two Roads Home
Book 3: Another Way Home
Book 4: Close to Home (Review to come this summer!)
Book 5: Home at Last — here we are!
The stories follow the lives of Grant and Audrey Whitman, parents of five adult children (though one son was killed in action), and now grandparents of a growing brood. Each book is a love story, a midwest American version of what Lord and Lady Grantham have dealt with at Downton Abbey. Chicory Inn is the childhood home of the Whitman family, and in their empty nest years, Grant and Audrey have transformed it into a beautiful Bed and Breakfast.
Bi-weekly Tuesday nights at Chicory Inn are sacred and off limits for outsiders, with Grant and Audrey gathering their adult children and offspring for a home-cooked meal and fellowship. In Home at Last, bachelor Link Whitman becomes the focus of the story, as he's the last man standing unattached to a spouse. I've enjoyed getting to know Link in the other books, so this story allowed me to delve further into his character.
Twenty-nine year old Link is not exactly unhappy at the beginning of the book, but in his six years since graduating from college, he still hasn't landed a "real job." He's stuck in an entry level position testing electrical wire, exhausted from working double shifts and coming home to a bachelor pad studio in a not-so-great part of town. Something is missing in his life, and his sisters' attempts at playing matchmaker leave him edgy and unsatisfied.
In a split second on an icy road, Link's distracted driving (talking on his cell phone to his mom!) almost causes his truck to hit a small child. It turns out she is the five-year-old niece of the attractive Shayla Michaels, who works in the local Coffee's On bakery. He'd met her at a nearby homeless shelter, where he'd volunteered his computer knowledge for a while. Link had been drawn to her, yet her mysterious life was unknown to him until the near tragedy causes their casual friendship to deepen.
Shayla's life has always been a challenge, as she's straddled two worlds, being the daughter of a white mother and African American father. Both extended families rejected the other, but after the death of her mother, she's embraced by her father's family. She bears the heavy load of raising her niece, Portia, since her brother is serving time in jail and the girl's mother is out of the picture.
Link and Shayla begin a relationship, allowing readers to witness the difficulties they must face as a mixed-race couple. Reading the novel as part of a group will open up opportunities for conversations about topics such as interracial dating and parenting. As always, Deborah Raney includes a Group Discussion Guide at the back of the book, with questions that will allow readers to dig deeply into contemporary issues.
One of the best parts about finishing a whole series of books is that you can finally realize the author's long-term vision as she commenced writing. When I began the series, I didn't realize each book would focus on one of the Whitman offspring, so now I can understand how all the books tie in together. They take up a special place on my bookshelf, and I look forward to reading them again. Now, if only a producer would pick them up to make a Chicory Inn mini-series or film!
About the author: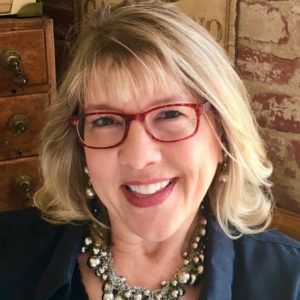 Deborah Raney's novels have won numerous awards including the RITA, National Readers' Choice Award, HOLT Medallion, the Carol Award, and have three times been Christy Award finalists. She and her husband, Ken Raney have traded small-town life in Kansas-the setting of many of Deb's novels-for life in the city of Wichita.
Find out more about Deborah at her website here.
**************************************************
Conclude Deborah Raney's Chicory Inn novels with the final book, Home at Last, a story of acceptance, trying to overcome differences, and love.
Everything changes for bachelor Link Whitman one icy morning when a child runs into the street and he nearly hits her with his pickup-and then the girl's aunt Shayla enters Link's life. Can Shayla and Link overcome society's view of their differences and find true love? Is there hope of changing the sometimes-ugly world around them into something better for them all?
Join Deborah on Thursday, March 23, for a live author chat party in her Facebook group with fun prizes to be won! Click the graphic below for more details and to RSVP. Hope to see you there-bring a friend or two who loves to read!