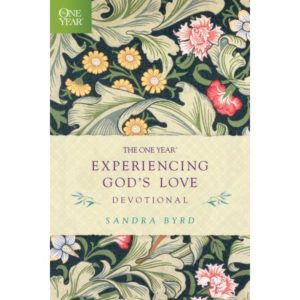 Entering November means the next two months will be super busy around my house! My calendar is already booked with upcoming school concerts and programs, holiday parties, and of course the need to get started on my Christmas shopping.
If you have someone on your list who could use some encouraging words in the coming year, I highly recommend a beautiful book I requested for review by one of my favorite authors, Sandra Byrd. She is one of the few Christian authors I actually discovered on the bookshelf of my local public library! My daughters and I loved her eight-volume Hidden Diary series, which have been repackaged with new covers into four books. Also highly recommended if you have girls in the 8-12 year tween age range.
Sandra Byrd's latest release, The One Year Experiencing God's Love Devotional, offers us a glimpse into the author's heart as she shares stories from her personal life interwoven with the wisdom from scripture. Perfect reading for women of any age and season of life.
In the introduction, Sandra writes:
To experience something is to live it, to encounter it, to understand it, to explore it with our hearts, minds, and souls as well as with the five physical sense and our God-given spiritual ones. It means to join him in doing his work and to be the recipient of it too. In every action we do with and for God, every good day and bad day when we walk hand and hand with God, we experience him.
The book contains six days' worth of daily devotions for each week, plus the opportunity to put new insights into practice in a hands-on way on the seventh day. You can read them on your own and be blessed individually, or you can share them with family, friends, book clubs, or any others in your path. I remember one year I was chaplain of a women's service club in my hometown, and I was always looking for encouraging material to share at the start of the meetings. This book would have been a lifesaver as I sometimes scrambled last minute — and that was back when my kids were toddlers and in elementary school!
For example, today's November 1st devotional is titled, "We're All Saints." Sandra provides us with some background about All Saint's Day and the root word meanings of the word saint in the Bible. She shares the scripture, "By grace you have been saved through faith. And this is not your own doing; it is the gift of God, not a result of works, so that no one may boast" (Ephesians 2:8-9). So as believers, we're all saints, with a wonderful reason to celebrate "our" special day!
I've already started reading this month's devotions, and I look forward to journeying through 2018 with this devotional book on my nightstand or kitchen table, as I share with my family new insights I learn. If you want a sample of Sandra Byrd's writing, here is a link to her devotional on suffering, Why Didn't God Stop It From Happening?
If you'd like to help spread the good news about this book on your social media accounts, Tyndale has created some beautiful memes and sticky notes here, which you are free to share. You can use the hashtag: #OYGodsLove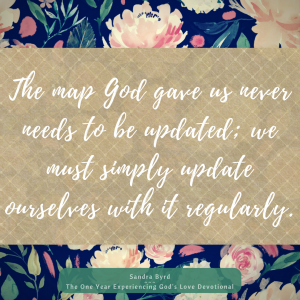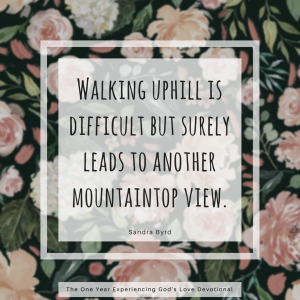 **************************************************************

About the Author:


After earning her first rejection at the age of thirteen, bestselling author Sandra Byrd has now published more than fifty books for kids, tweens, and teens, including the bestselling The One Year Be-Tween You and God Devotions for Girls. She continued her work as a devotionalist, this time for women, with The One Year Home and Garden Devotions. Her latest book, The One Year Experiencing God's Love Devotional, released in October 2017.
Sandra is passionate about helping new writers develop their talents and their work for traditional publishing or self-publication. She has mentored and coached hundreds of new writers and continues to guide developing authors toward success each year via novelcoaching.com. Please visit www.sandrabyrd.com to learn more or to invite Sandra to your book club via Skype.
Thank you to Tyndale for sending me a complimentary copy. All opinions expressed are mine alone.