Heather loves chatting with parents and other experts who write, seeking out their wisdom and insight. Since 2005, she's interviewed dozens of women (and a brave guy or two) who've successfully managed to pen short stories, novels, creative nonfiction, e-books, and lots of other things in between cooking dinner, folding laundry, hauling kids to soccer practice, attending noisy birthday parties, carpooling, and feeding the cat.
Claudine Aievoli, April 2007
Hester Bass, August 2010
Tracey Bateman, February 2007
Trish Berg, April 2007
Kristin Billerbeck, October 2006
Robin Hood Black, August 2010
Allison Bottke, August 2008 interview for Christian Women Online ezine
Barbara Cameron, November 2008 interview for Christian Women Online ezine
Colleen Coble, April 2006
Gina Conroy, May 2007
CJ Darlington, March 2010
Mary DeMuth, February 2006 (1), (2), September 2006
Jenn Doucette, February 2007
Dena Dyer, October 2006
Alyice Edrich, February 2006 (1), (2)
Meredith Efken, July 2010
Suzie Eller, May 2006, October 2006
C. Hope Flinchbaugh, January 2007
Tricia Goyer, March 2007
Sheila Wray Gregoire, April 2007
Liz Curtis Higgs, January 2007 cover interview for Christian Women Online ezine
Ellie Kay, March 2007
Keri Wyatt Kent, April 2006
Kelsey Kilgore, June 2010
Lindsey Leavitt, July 2010
Christine Lynxwiler, April 2007
Dandi Daley Mackall, March 2007
Kathryn Mahoney, March 2006 (1), (2)
Heather Montgomery, July 2010
Randy Mortenson, November 2006
Kathryn Porter, January 2007
Deborah Raney, September 2006
Christy Scannell, April 2007
Lori Z. Scott, July 2011
Donna Shepherd, May 2006 (1), (2)
Vonda Skelton, April 2006, March 2008
Susan Thacker, March 2006(1), (2)
Kristin O'Donnell Tubb, May 2010
Amy Brecount White, April 2010
Deborah Wiles, May 2010
Alice J. Wisler, June 2010
Heather has also published some of her own work in the teen and adult inspirational markets. Below are a few of the books in which her writing appears:
Heather's book, From a Daughter's Heart to Her Mom: 50 Reflections on Living Well, was published by Thomas Nelson in 2006. It became a Women of Faith gift book.
Heather's story, "Spring Portraits" appears on p. 23 in Blessed Among Women: God's Gift of Motherhood. Published by Integrity House, 2007.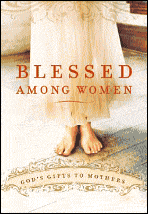 Heather's story, "The Great Rabbit Chase," appears on p. 185 in A Cup of Comfort for Mother's to Be: Stories That Celebrate a Very Special Time, edited by Colleen Sell. Published by Adams Media, 2006.

Heather's essay, "The Boy Who Liked to Play with Trains," appears on p. 55 in The Rainy Day Book: Pick Me Ups for When You're a Little Blue, published by Thomas Nelson, 2006.

Heather's humorous essay, "Gourmet Snack-Baking Moms Need Not Apply," appears on p. 230 in Soul Matters for Mothers: Wisdom and Inspiration for the Important Issues of Your Life. Published by Thomas Nelson 2005.

Heather wrote over 50 devotionals for the teen book, What Really Counts for Students: Your Guide to Discovering What's Most Important in Life and Letting Go of the Rest. Published by Thomas Nelson, 2005.

While in graduate school, Heather co-authored chapter 7 of the book, Teacher/Mentor: A Dialogue for Collaborative Learning. She and her colleagues interviewed high school students to discover the differences between avid and reluctant writers. The results are helpful for English teachers and anyone who wants to encourage young people to enjoy writing. Published by Teachers College Press, 1999.