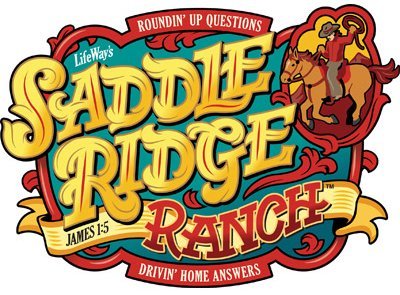 Our church recently made it through a full week of Vacation Bible School, using Lifeway's western theme, Saddle Ridge Ranch. We had a fantastic turnout, with over 400 in attendance, and I have to say this was one of my favorite themes. Yee-haw! I'm wondering if any of you out there have used this with your church VBS.
The motto, "Need Answers? Ask God!" was easy for kids to remember, and we memorized the key scripture, James 1:5, in unison:
Now if any of you lacks wisdom, he should ask God, who gives to all generously and without criticizing, and it will be given to him.
VBS has come a long way since my days of singing "Deep and Wide" and drinking orange Kool-Aid from Dixie cups. It's a major task trying to reach this generation of high-tech kids, but I think Lifeway has once again done a great job.
In my tiny speck of the globe, I worked with the fifth graders, on the third floor of our Southern Baptist church. I really enjoyed this age group. We spent about an hour teaching the lesson, broken up into different games and activities. The rest of the morning, the kids went to worship ralley, crafts, snack, music, and recreation.
I found it amusing that one of the boys used his ipod to look up scripture, and he was always the first one to find it. "EPIC" seemed to be the word of the week, as in "Epic, man! That is so cool!" It's exciting for me to be around kids who are being exposed to the Bible for the first time.
We once asked a question about Joseph, and a little voice piped up, "Is he the guy that got thrown in the lion's den?" To which someone giggled, "No! That was Daniel, you dork." We passed out Bibles and asked the kids to look up scripture. One girl flipped hers open then whispered to me, "Is Genesis before or after Isaiah?"
I loved all of this. These fifth graders will come of age around 2020 or 2030. They'll be making decisions someday about where to live, what to do with their lives, whom to trust. I hope they'll remember these days of VBS and seek the still, small voice of God as they plan their journeys.
The highlight this year was definitely the music! Jeff Slaughter did an amazing job with keeping the kids interested. I don't know if he wrote and choreographed all the songs, but he's the guy we saw dancing around on a big screen every morning singing "Tumbleweed" and "Like Jesus" (my personal favorites). You can listen to the songs here.
And now we have a whole year to get ready for the new 2011 theme: Big Apple Adventure!