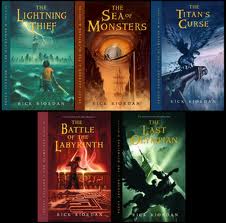 If you feel as much joy as I do when great kids' books are made into movies, you'll get a kick out of this article in Publishers Weekly,
The 10 Most Anticipated Book Adaptations in 2013.
There is absolutely nothing I want to see at the movie theater this month, and that's fine with me. I'm too busy happily plowing my way through the Percy Jackson series — at last! My 9-year-old son has been begging me for months to please hurry up and read The Lightning Thief so we can discuss how amazing the book is and how different it was from the movie.
So I did! I've at last cracked the covers of Rick Riordan's first bestselling series and have become intimately acquainted with the lives of Percy Jackson, Annabeth Chase, Grover Underwood … and now, my mind is reeling with dozens of gods and goddesses, the likes of which I haven't studied since my long ago days in 8th grade mythology. Camp Half-Blood is a real place to me, somewhere I'd like to visit with my kids.
I flew through The Lightning Thief, which Disney/Hyperion published in 2005 (the same year Scholastic brought out J.K. Rowling's Harry Potter and the Half-Blood Prince. Detect any rivalry there?). Next, onward ho to The Sea of Monsters, and I'm wondering if anyone who doesn't know about the Percy Jackson books might think my choice of reading … a bit odd. Loved that one, and now I'm into The Titan's Curse. Ah, Riordan's plotting has become somewhat predictable, but the writing and humor are so good, I can't stop. (Though actually I have very little time to read each day and I must stop or my kids will all starve and run around in dirty clothes.)
So, you can see why I'm one of the millions of Riordan fans eagerly anticipating the upcoming August 16, 2013 release of "The Sea of Monsters" movie. Now, I confess I did see the 2010 film version of The Lightning Thief before I read the book, but that's back when I used to say, "I'm not really into fantasy." I don't say that anymore now that I love reading what my kids are reading, and discussing books is one of my favorite "connecting points" of motherhood.
Anyway, the 2010 film was OK, but strayed so far from the book, it was like a completely different story. Oh, I hope the director does a better job with the sequel. I can't wait to take my kids, the ones who've READ the book, and we'll probably get a big group up to go.
Here are the other three movies in the PW List I'm excited about:
*Ender's Game comes out November 1. I haven't read this series yet, but my oldest son loves these books, and now I have a reason to read them so I can enjoy the movie too!
*Catching Fire, book 2 of Suzanne Collin's Hunger Games series, releases November 22. Two movies in one month for me! I read these books only because my 12-year-old daughter and her friends were all talking about them, and I promised I'd read them before we went to the movie. Wow. I hated and loved these books — the first one is so violent and awful, but when you finish Catching Fire and Mockingjay, you see how the author had to create a world of evil to contrast it with one of peace, and I actually wept and felt bereft for a few days when I finished Mockingjay … so yeah, I can't wait to take my OLDER kids to the movie. (This series is so inappropriate for the under 12 crowd!)
*Hobbit 2: The Desolation of Smaug. We have to wait until December 13 to see this one. waah! But at least this gives more people time to actually read the entire book. I admit it has been several decades since I've read The Lord of the Rings series, but I did reread The Hobbit before the movie, and I plan to make up for lost time — as soon as I finish Percy Jackson, which will take me a while because Riordan hasn't stopped writing those things! My kids have all finished through The Mark of Athena, book 3 of the Heroes of Olympus series, so I have many words to read before I sleep.